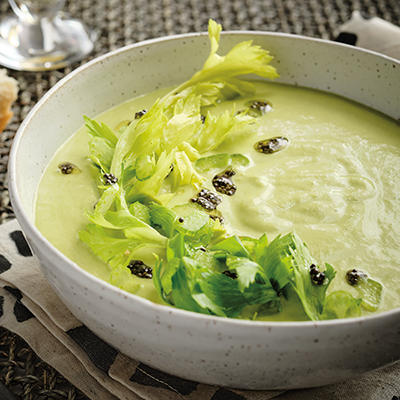 Ingredients
Serves 4
2 tbsp (30 ml) extra-virgin olive oil, divided
1 medium onion, finely chopped
2 garlic cloves, finely chopped
2 cups (500 ml) finely chopped celery stalks
salt and pepper, to taste
1 pinch whole cumin seeds
1 pinch + 1 tsp (just over 5 ml) mustard seeds, divided
3 tbsp (45 ml) all-purpose flour
2½ cups (625 ml) chicken stock
½ cup (125 ml) spinach leaves, blanched
½ cup (125 ml) whipping cream
1 handful celery leaves, for garnish
Instructions
In a large saucepan over medium heat, heat butter and 1 tbsp (15 ml) olive oil. Add onion, garlic and celery and season with salt and pepper. Sweat vegetables until softened, about 5 minutes. Once vegetables are softened, add cumin, coriander and a pinch of mustard seeds and cook until spices are fragrant, about 30 seconds to 1 minute.
Add flour and mix until combined, then slowly add stock, stirring constantly to avoid lumps. Simmer for 15 minutes.
Meanwhile, heat remaining 1 tbsp (15 ml) olive oil in a small frying pan over medium-high heat. When oil is hot, turn off heat and add remaining 1 tsp (5 ml) mustard seeds. Be careful as they will pop. Set aside and let cool.
Working in batches with a blender or immersion blender, carefully blend soup together with blanched spinach. Place in a clean saucepan and return to a simmer over medium heat. Add cream and stir to combine. Taste and adjust seasoning as needed. Divide between bowls and garnish with popped mustard seeds and celery leaves.
Drink Pairings