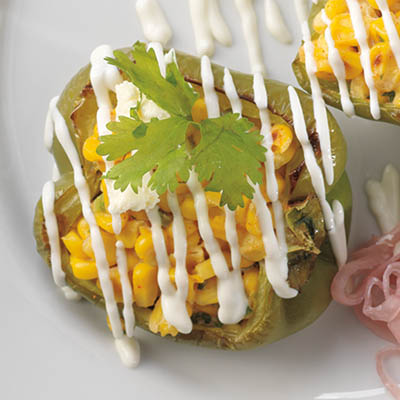 CREAMY CORN-STUFFED PEPPERS
Ingredients
Serves 4
10 ears of corn, husk and silk removed
1 tbsp (15 ml) butter, melted
2 green peppers, cut in half lengthwise
2 tbsp (30 ml) extra virgin olive oil
2 tbsp (30 ml) red onion, finely diced
¼ tsp (1 ml) Mexican oregano (or marjoram)
1 pinch ground black pepper
½ cup (125 ml) sour cream
½ cup (125 ml) queso fresco or cow feta cheese, crumbled, divided
¼ bunch of cilantro, picked off the stems and roughly chopped
Instructions
Preheat a barbecue to medium heat.
Brush the corn with butter and grill for about 2 minutes on each side. The corn doesn't have to be cooked all the way through, but the grill marks will add flavour. Cool and cut the kernels from the cob, set aside.
Remove heart and seeds from the green peppers and discard. Keep the stem part of the pepper intact. Brush the outside of the peppers with olive oil and grill for 3 to 4 minutes on all of the outside edges. Don't overcook. The peppers need to retain their shape. Set aside.
Preheat oven to 375 F (190C).
Sauté onion and garlic over medium heat until soft, then add the Mexican oregano, salt, and pepper. Cook for another 2 to 3 minutes. Let cool slightly and add the corn kernels, sour cream, and half of the queso fresco. Mix until combined and fill the peppers. Sprinkle the remaining queso fresco over the peppers.
Bake for about 10 minutes, until the filling is melted and bubbly. Garnish with cilantro and serve with lime pieces.
Drink Pairings