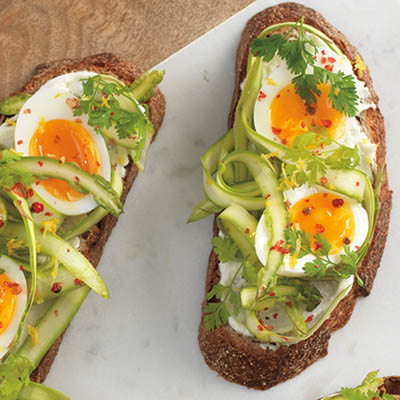 CREAMY FETA AND ASPARAGUS WITH SOFT-BOILED EGG ON COUNTRY BREAD
Ingredients
Serves 4 open faced sandwiches
4 small eggs, at room temperature
2 tbsp (30 ml) plain Greek yogurt
1 tbsp + 2 tsp (15 ml + 10 ml) lemon juice, divided
1 tbsp (15 ml) extra-virgin olive oil, plus extra for garnish
½ tsp (2 ml) finely grated lemon zest
flaked sea salt, such as Maldon salt, plus extra to taste
4 slices of country loaf, sliced ½-in (1.25 cm) thick and toasted
2 tbsp (30 ml) fresh chervil leaves
1 tsp (5 ml) crushed pink peppercorns
Instructions
Bring saucepan of water to a boil. Gently lower eggs into water and boil for 6 minutes before draining and running under cold water to cool. Carefully peel and half each egg and set aside.
In a small food processor combine feta, yogurt and 1 tbsp (15 ml) lemon juice until smooth and creamy.
Thinly slice asparagus with vegetable peeler and place in large bowl before tossing with remaining 2 tsp (10 ml) lemon juice, olive oil, lemon zest and a pinch of salt. Marinate for 10 minutes.
To assemble, spread creamy feta on toast and top with marinated asparagus and 2 egg halves. Garnish each with a sprinkle of chervil, pink peppercorns and an extra pinch of salt, if desired. Serve immediately.
Drink Pairings