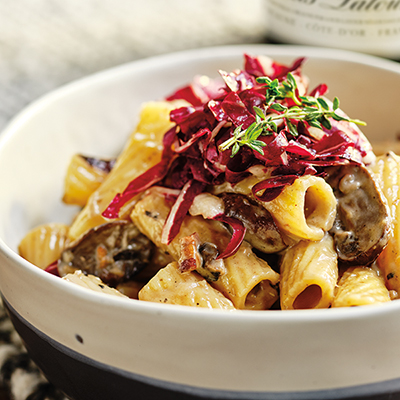 CREAMY MUSHROOM AND RADICCHIO RIGATONI
Ingredients
Serves 4
2 tbsp (30 ml) olive oil, divided
4 medium shallots, sliced
4 cups (1 L) cremini mushrooms, trimmed and sliced
1 cup (250 ml) whipping cream
5 sprigs thyme, leaves only
salt and pepper, to taste
1 cup (250 ml) grated Parmigiano-Reggiano
½ small head radicchio, thinly sliced
Instructions
In a large skillet, cook bacon over medium-high heat until brown and crispy, about 6 to 8 minutes. Remove from pan and set aside. Reserve 1 tbsp (15 ml) bacon fat in pan and discard remaining. Add 1 tbsp (15 ml) olive oil, shallot and garlic and sauté for 3 to 5 minutes, or until soft. Add mushrooms and cook until soft and some moisture has cooked out, about 6 to 8 minutes. Deglaze pan with wine and cook until fully reduced, about 3 minutes. Add cream and thyme and cook for 3 to 5 minutes, until cream has thickened. Return bacon to skillet.
In a large pot, bring 8 cups (2 L) water to a rapid boil. Season lightly with salt. Cook rigatoni for 8 to 10 minutes, or until al dente. Reserve ½ cup (125 ml) pasta water, then drain rigatoni.
Pour ¼ cup (60 ml) reserved pasta water into sauce, then stir in rigatoni and Parmigiano-Reggiano. Stir to coat. If you prefer a thinner cream sauce, add remaining ¼ cup (60 ml) pasta water and stir to coat.
In a small bowl, dress radicchio with remaining 1 tbsp (15 ml) olive oil, lemon juice and salt and pepper. Divide pasta between bowls and top with radicchio salad.
Drink Pairings