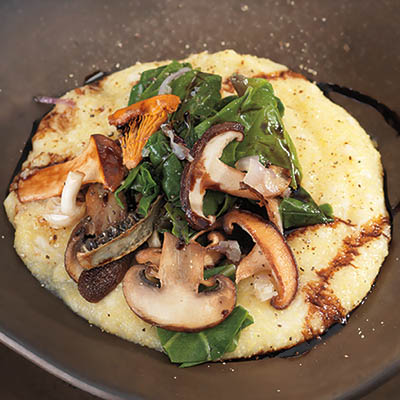 CREAMY POLENTA WITH WILD MUSHROOMS
Ingredients
Serves 6
4 cups (1 L) chicken stock
½ tsp (2 ml) sea salt, plus extra
1 cup (250 ml) course ground cornmeal
1 large bunch green Swiss chard
4 tbsp (60 ml) unsalted butter, divided
1 large shallot, finely minced
4 cups (1 L) cleaned, sliced wild mushrooms
1 cup (250 ml) grated aged white cheddar
1 tbsp (15 ml) balsamic vinegar
2 tsp (10 ml) fresh lemon juice
freshly ground black pepper
Instructions
In a large, heavy saucepan bring stock and water to rolling boil. Stir in salt and cornmeal and return to boil. Reduce heat to simmer, cook uncovered over low, stirring occasionally until thickened and pulls away from sides of pan, about 45 minutes. Whisk if it starts to clump.
Blanch chard in large pot of boiling water for 1 to 2 minutes until just wilting. Plunge into cold water to stop cooking. Drain well. Squeeze dry and coarsely chop. Set aside.
In a separate large frying pan, over medium-high heat, warm oil and 1 tbsp (15 ml) butter. Add shallots and mushrooms, cook until mushrooms are tender, about 15 minutes. Stir often. Remove pan from heat and set aside.
When polenta is tender and creamy, stir in remaining 3 tbsp (45 ml) butter and ¾ cup (175 ml) cheddar. Cook over low heat until butter and cheese are melted. Add salt and pepper to taste.
Return frying pan with mushrooms to burner and reheat to medium-high. Add cooked chard and fold together until hot and blended. Drizzle with balsamic and lemon juice.
To serve, spoon polenta into bowls. Spoon mushrooms and chard over top and sprinkle with remaining grated cheddar. Season to taste.
Drink Pairings