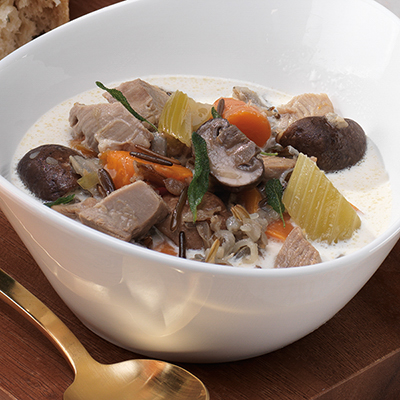 CREAMY TURKEY AND WILD RICE SOUP
Ingredients
Serves 8
bones from carcass of 1 roasted turkey (or 3 lbs (1.5 kg) roasted turkey bones)
1 carrot, peeled and halved
1 onion, peeled and halved
2 carrots, peeled and cut into 1-in (2.5 cm) pieces
2 celery stalks, peeled and cut into 1-in (2.5 cm) pieces
1 cup (250 ml) mushrooms, quartered
1 cup (250 ml) cooked wild rice
2 cups (500 ml) cooked turkey meat, roughly chopped
1 cup (250 ml) heavy cream
1 tbsp (15 ml) lemon juice
Instructions
In a large stockpot, add turkey bones, halved carrots, onion and celery. Add 8 cups (2 L) water, or enough to cover, and bring to a boil.
In a piece of cheesecloth, add garlic cloves, bay leaf, peppercorns and thyme and tie together with kitchen string and add to stockpot along with salt. Simmer on low heat for about 4 hours, occasionally skimming off any fat. After 4 hours, strain and discard all solids and set stock aside.
In a large saucepan over medium heat, melt butter, add finely chopped onions, carrot pieces, celery pieces and mushrooms. Cook until tender. Add flour and mix until thoroughly combined. Cook for 2 minutes, then slowly add turkey stock, whisking to prevent lumps. Add wild rice and turkey meat. Bring to a simmer and cook for 20 minutes until vegetables are soft and flavours have blended. Add cream and lemon juice and season to taste.
While soup is cooking, fill a small saucepan with oil to about 1-in (2.5 cm). Heat over medium heat until oil reaches 300 F (148 C). Carefully fry sage until crisp.
Serve soup in bowls and garnish with crispy sage. Serve with fresh bread.
Drink Pairings