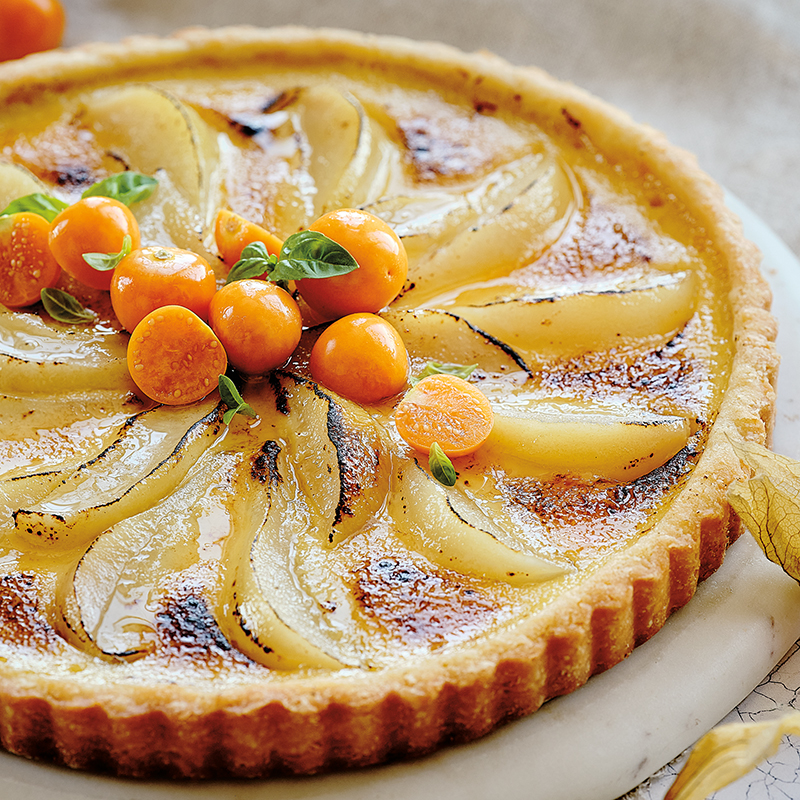 Crème Brûlée Pear Tart
This impressive tart combines flaky crust, creamy custard, poached pears and crunchy caramelized sugar. All the components can be made ahead of time, but brûlée the pears just before serving.
Ingredients
Serves 8
1 cup (250 ml) white wine
1 cup (250 ml) granulated sugar
½ vanilla bean, split in half
1½ cups (375 ml) all-purpose flour
½ cup (125 ml) icing sugar
¼ tsp (1 ml) fine sea salt
9 tbsp (135 ml) very cold unsalted butter, cut into chunks
⅓ cup + 2 tbsp (105 ml) granulated sugar, divided
1¼ cups (310 ml) whipping cream
1 tsp (5 ml) vanilla extract
Cape gooseberries and fresh basil, for garnish
Instructions
Make Poached Pears and let cool to room temperature while making tart crust. To make poached pears: in a small saucepan, stir together water, wine, sugar and vanilla bean. Warm mixture over medium heat, stirring constantly, until sugar dissolves, about 2 minutes. Bring mixture to a light simmer. Peel pears and, with a melon-baller, remove core, working from bottom and carving into centre of pear. Place pears in simmering sugar syrup. To keep pears submerged, place a piece of parchment paper over them so that it touches poaching liquid. The amount of time needed for pears to poach will depend on ripeness. To check pears for doneness, after 8 to 10 minutes, lift them gently from syrup with a slotted spoon and, using a small knife, poke flesh. Pear is done when knife meets very little resistance. If not yet done, return pears to sugar syrup and check every 3 to 5 minutes. When cooked to desired doneness, transfer pears to a bowl and let cool completely to room temperature before using. Pears may be refrigerated in an airtight container along with their poaching liquid for up to one week.
In bowl of food processor fitted with steel blade attachment, pulse together flour, icing sugar and salt until well combined. Scatter butter over dry ingredients and pulse until butter is coarsely chopped. Butter should vary in size from a flake of oatmeal to peas. Add 1 egg and pulse until dough comes together in large clumps. It's ok if all the dry ingredients have not incorporated fully. Turn out dough onto a clean work surface and knead very lightly and sparingly, just until any wayward dry ingredients are incorporated. Form dough into a disk, wrap in plastic wrap or beeswax cloth and refrigerate for at least 1 hour or up to 2 hours.
Butter a 9-in (23 cm) fluted tart pan with removable bottom.
Roll out chilled dough on a lightly floured sheet of parchment paper until about ¼-in (0.5 cm) thick, taking care to lift, turn and flour dough occasionally to make sure it does not stick to paper. Using parchment as an aid, lift dough into prepared tart pan. Discard parchment paper. Seal any cracks in dough, trim extra dough with scissors ½-in (1.25 cm) above rim of pan and fold overhang inward to reinforce sides. Place crust in freezer for 1 hour.
Centre a rack in oven and preheat to 375 F (190 C).
Butter shiny side of an aluminum foil piece before fitting foil, buttered-side down, tightly against frozen crust. Place tart pan on a baking tray and bake crust for 20 to 25 minutes. Carefully remove foil and press down any parts of crust that have puffed up. Bake again for another 5 minutes. Set aside on a wire rack and reduce oven temperature to 300 F (150 C).
For filling, in a medium bowl, whisk together remaining egg with egg yolks and ⅓ cup (75 ml) sugar until well combined. Add whipping cream and vanilla extract and whisk until well combined. Using a fine mesh strainer, strain into a measuring jug and set aside.
Cut each prepared pear half into 4 wedges. Arrange pears in tart shell to form a rosette, overlapping them slightly if needed but leaving some room for custard filling. You may not need all pear wedges for the tart. Place tart pan, still on baking tray, into oven and carefully pour custard mixture into shell, trying not to disturb pear placement. Bake until custard is just set but still slightly wobbly in centre, about 25 to 30 minutes. Remove tart from baking tray and allow to cool on a wire rack for 30 minutes. Remove sides of tart pan and leave tart to cool on rack to room temperature, about 2 hours. Once cooled, tart may be loosely covered and chilled for up to 24 hours. Gently blot any moisture from surface before continuing with recipe instructions.
Just before serving, sprinkle remaining 2 tbsp (30 ml) sugar evenly over top of tart. Using a brûlée torch, blow sugar layer, moving flame evenly back and forth just above tart, avoiding crust, until sugar has caramelized. Let stand for 5 minutes before garnishing, if desired, with Cape gooseberries and basil.
Drink Pairings