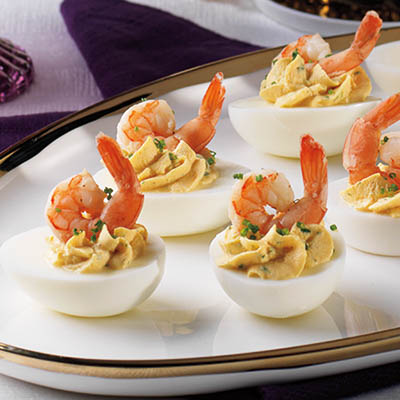 Ingredients
Serves 24
12 large eggs, at room temperature
2 tbsp (30 ml) lemon juice
2 tsp (10 ml) salt, plus extra for seasoning
½ tsp (2 ml) ground black pepper
24 peeled and deveined raw, medium-sized shrimp with tails
⅓ cup (75 ml) Greek yogurt
1 tbsp (15 ml) chopped fresh parsley leaves
½ tsp (2 ml) Creole seasoning
fresh minced chives, for garnish
Instructions
Place eggs in a single layer in a large saucepan. Cover eggs with water and bring to a boil. Cover, remove saucepan from heat, and let stand 10 minutes. Drain eggs and place under cold running water until just cool enough to handle. Tap eggs to break shells and peel. Discard shells and set eggs aside.
In a medium saucepan, combine vodka, lemon juice, salt and pepper and bring to a boil over medium-high heat. Add shrimp, cover and cook until shrimp turns pink, about 2 to 3 minutes. Drain and transfer shrimp to a bowl. Chill shrimp 1 hour in refrigerator.
Slice eggs in half lengthwise, and carefully remove yolks. In a bowl, mix together remaining ingredients until smooth. Season to taste.
To serve, spoon yolk mixture into egg white halves. Top each deviled egg with a chilled, cooked shrimp and garnish with a pinch of minced chives. May be loosely covered with plastic wrap and refrigerated for 1 hour before serving.
Drink Pairings