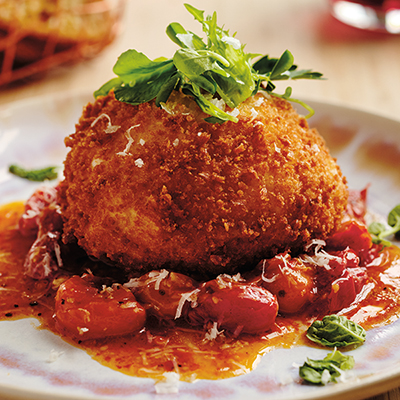 Crispy Burrata served with Stewed Tomatoes
Ingredients
Serves 2
3 tbsp (45 ml) extra-virgin olive oil
2 garlic cloves, thinly sliced
16 oz (500 g) cherry tomatoes
salt and pepper, to taste
vegetable oil, for deep-frying
4 oz (125 g) burrata cheese
½ cup (125 ml) all-purpose flour, seasoned with salt and pepper
½ cup (125 ml) panko bread crumbs
micro greens or herbs, for garnish
grated Parmigiano Reggiano, for garnish
Instructions
In a frying pan, heat olive oil over medium heat. Add garlic and cook just until soft. Add bay leaf, thyme and cherry tomatoes. Season with salt and pepper. Cover with a lid and cook for 10 minutes, until tomatoes are softened.
Remove lid and cook for another 5 minutes, or until most of the liquid has reduced. Remove from heat and allow to cool to room temperature.
Heat vegetable oil to 375 F (190 C) in a saucepan large enough to deep-fry burrata without oil overflowing.
To bread burrata, prepare 1 shallow bowl with seasoned flour, 1 with the beaten egg and 1 with the panko. Coat burrata in flour, then dip into beaten egg. Repeat, then coat burrata in panko. Dip back into beaten egg and finish with another coating of panko. The burrata is very delicate and needs a thick coating of breading so that the cheese will not leak out. Deep-fry burrata until golden brown, about 4 minutes. Using a slotted spoon, remove from oil and season with salt.
Place stewed tomatoes on a serving plate, then place burrata on top. Garnish with micro greens or herbs and Parmigiano Reggiano.
Drink Pairings