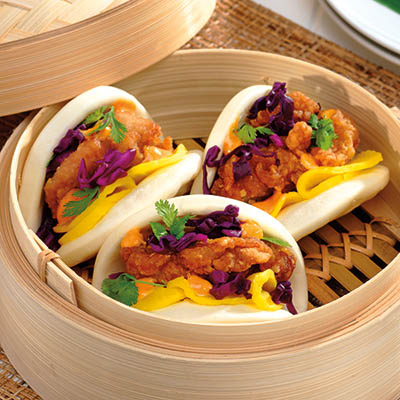 Ingredients
Serves 12 bao buns
1 lb (500 g) boneless, skinless, chicken thighs cut into 1½-in (3.75 cm) sized pieces
2 tbsp (30 ml) soy sauce or tamari
1 tbsp (15 ml) grated ginger
2 tsp (10 ml) granulated sugar
1 cup (250 ml) potato starch or cornstarch
12 frozen bao buns (Available at Asian markets in the frozen section. They may be called Chinese/Taiwanese Hamburger Buns.)
¼ cup (60 ml) Japanese pickled daikon, thinly sliced
3 tbsp (45 ml) cilantro, picked
¼ cup (60 ml) Japanese Kewpie mayonnaise
1 tbsp (15 ml) sriracha, or to taste
1 cup (250 ml) sliced thinly red cabbage
¼ cup (60 ml) rice wine vinegar
1 tbsp (15 ml) white sugar
Instructions
In a bowl, mix chicken, soy sauce or tamari, sake, ginger, garlic, sugar and lemon juice. Cover and marinate overnight in refrigerator.
When ready to assemble, fill a medium-sized heavy bottomed pot with about 2-in (5 cm) of vegetable oil. Heat to 360 F (182 C) over medium-high heat.
Place potato starch or cornstarch in a bowl. Add a handful of marinated chicken and toss with starch until evenly coated. Fry chicken in oil, turning halfway through, until golden brown and cooked through, about 5 to 8 minutes. The temperature of the oil will drop when you put the chicken in, keep the temperature at 350 F (180 C) when cooking. Drain chicken on a cooling rack or paper towel and repeat with remaining chicken.
Steam buns in a bamboo steamer for 5 to 8 minutes, or until soft. Spread 2 tsp (10 ml) of Sriracha Mayonnaise on each bun. Divide chicken evenly between each bun and garnish with Pickled Cabbage, pickled daikon and cilantro.
To make SRIRACHA MAYONNAISE: Mix the mayonnaise and sriracha together. This can be used right away or kept for up to 1 week in the refrigerator in a covered container. Makes ⅓ cup (75 ml).
To make PICKLED CABBAGE: In a bowl, mix together all ingredients. Squeeze mixture with hands until liquid starts to come from cabbage. Store in a sealed container or glass jar overnight. The cabbage can be stored in the refrigerator in the pickling liquid for up to 1 month.
When ready to use, take out desired serving amount and squeeze liquid from cabbage. Makes ½ cup (125 ml).
Drink Pairings