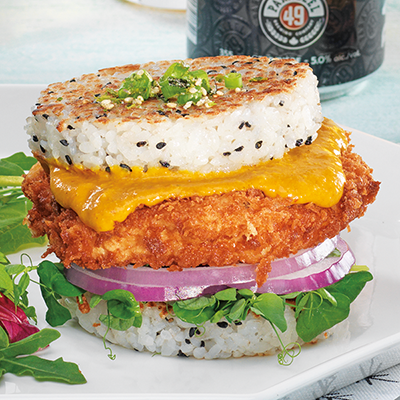 CRISPY CHICKEN BURGER WITH STICKY RICE BUN
Ingredients
Serves 4
½ tsp (2.5 ml) sesame oil
¼ cup (60 ml) mirin (Available at specialty Asian markets)
¼ cup (60 ml) unseasoned rice vinegar
3 tbsp (45 ml) granulated sugar
2 cups (500 ml) sushi rice, well rinsed under cold water
3 cups (750 ml) cold water
2 tbsp (30 ml) black sesame seeds
1 tsp (5 ml) grapeseed oil, plus extra
1 medium yellow onion, diced
1 tbsp (15 ml) minced ginger
¼ cup (60 ml) unsalted butter
¼ cup + ½ cup (60 ml + 125 ml) all-purpose flour, divided
2 tbsp (30 ml) Japanese curry powder
1 tbsp (15 ml) tomato paste
1 tbsp (15 ml) Worcestershire sauce
½ tsp (2.5 ml) ground cayenne pepper
1 cup (250 ml) chicken stock
2 boneless, skinless chicken breasts
1½ cups (375 ml) panko bread crumbs vegetable oil, for frying
2 cups (500 ml) microgreens
1 small red onion, cut into thin rings
Furikake seasoning1 (optional)
1 green onion, sliced into thin rounds
Instructions
In a small saucepan over medium heat, stir together sesame oil, mirin, rice vinegar, sugar and salt. Once at a simmer, cook for 30 seconds before removing from heat. Set aside.
In a medium saucepan, add rice and cold water, cook according to package instructions. Transfer cooked rice to a large bowl and sprinkle with sesame seeds. Add roughly ½ cup (125 ml) seasoning mixture. Using a rubber spatula, chop and fold rice, gently mixing in seasoning mixture. Divide rice mixture into 8 equal portions, about ½ cup (125 ml) each. With water-dampened hands, firmly press 1 portion of rice into a greased, round 3½-in (9 cm) cookie cutter. Repeat with remaining rice. Refrigerate until ready to assemble burgers.
In a small saucepan over medium heat, warm grapeseed oil. Add yellow onion, garlic and ginger. Cook, stirring often, until softened but not browned, about 8 to 10 minutes. Add butter and let melt. Once melted, stir in ¼ cup (60 ml) flour and let cook for 1 minute. Stir in curry powder, tomato paste, Worcestershire sauce and cayenne pepper. Cook, stirring often, for another 8 to 10 minutes. Paste should become dry and crumbly, careful not to burn. Add chicken stock, increase heat to medium-high and bring sauce to a boil, stirring constantly until thickened, about 2 minutes. Season to taste. Transfer to a blender and blend until smooth. Set curry sauce aside.
Pound chicken breasts until ½-in (1.25 cm) thick. Cut each breast in half to make 4 pieces and season.
In a medium bowl, add ½ cup (125 ml) flour and season generously with salt and pepper. In another medium bowl, whisk together milk and eggs. In a third bowl, add panko bread crumbs. Working with 1 piece of chicken at a time, first dredge chicken in seasoned flour. Shake off excess. Dip chicken into egg mixture, allow extra to drip off before pressing into panko. Repeat coating process with remaining pieces of chicken.
In a frying pan over medium heat, heat ¼-in (0.5 cm) of vegetable oil. Oil is ready when a pinch of flour sizzles on contact with hot oil. Working in batches, fry chicken until cooked through and coating is golden brown and crispy, about 3 to 4 minutes per side.
Warm a non-stick frying pan over medium heat. Working in batches, lightly brush rice buns with grapeseed oil, then sear until rice has started to caramelize, about 3 to 5 minutes on each side.
To assemble, place 4 rice buns on a platter. Top each with microgreens, red onion slices, a crispy chicken patty and a dollop of curry sauce. Sandwich with remaining rice buns before garnishing with a sprinkle of furikake seasoning and sliced green onions. Serve immediately.
Drink Pairings