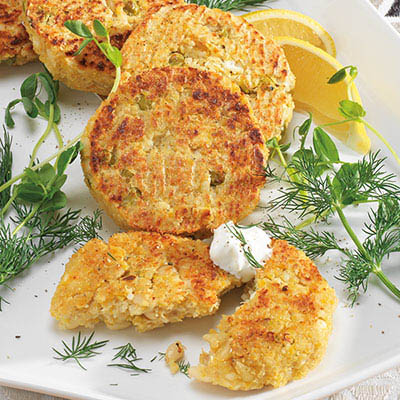 CRISPY CHICKPEA CAKES SERVED WITH LEMON DILL SAUCE
Ingredients
Serves 4
1 cup (250 ml) sour cream
½ tsp (2.5 ml) finely grated lemon zest
2 tsp + 1 tbsp (10 ml + 15 ml) lemon juice, divided
3 garlic cloves, finely minced, divided
1 tbsp (15 ml) finely chopped fresh dill
salt and pepper, to taste
1 cup (250 ml) canned chickpeas, drained and well rinsed
¼ cup (60 ml) finely chopped leek
2 tsp (10 ml) Dijon mustard
1 cup (250 ml) cooked white quinoa
¾ cup (175 ml) crumbled feta cheese
½ cup (125 ml) frozen peas, thawed
Instructions
In a medium bowl, whisk together sour cream, lemon zest, 2 tsp (10 ml) lemon juice, 1 minced garlic clove and dill until well combined. Season with salt to taste. Refrigerate for at least 1 hour or until ready to use.
Preheat oven to 400 F (200 C). Line a baking sheet with parchment paper and set aside.
In bowl of a food processor fitted with a steel blade attachment, add chickpeas, leek, Dijon mustard, oil, remaining 1 tbsp (15 ml) lemon juice and 2 minced garlic cloves. Pulse until a very coarsely textured paste forms. Transfer to a large bowl along with cooked quinoa, feta, peas and pine nuts. Stir with a wooden spoon or spatula to combine. Add egg and season with a good pinch of salt and pepper before stirring again to incorporate. Mixture should be moist and sticky, but able to hold its shape when formed into a small patty. Form mixture into 2½-in (6 cm) diameter patties before placing on prepared baking tray. Will have approximately 12 patties total.
Bake chickpea cakes until fragrant and golden brown on the bottom, about 18 to 20 minutes. Remove tray from oven, wait 2 minutes, gently flip each chickpea cake over and return tray to oven to bake until cakes are golden brown and lightly crisp, another 10 to 15 minutes. Allow chickpea cakes to cool on baking tray for 3 to 5 minutes before transferring to a serving platter. Enjoy while warm with lemon dill sauce.
Drink Pairings