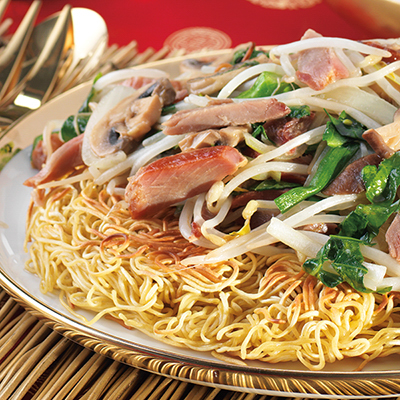 CRISPY CHOW MEIN WITH BARBECUED PORK
Ingredients
Serves 4 as an appetizer
½ lb (250 g) fresh thin chow mein egg noodles
1 tbsp (15 ml) light soy sauce
1 tbsp (15 ml) Chinese rice cooking wine or dry sherry
2½ tsp (12.5 ml) cornstarch
⅔ cup (150 ml) chicken stock
4 tbsp (60 ml) peanut oil or canola oil, divided
1 tsp (5 ml) minced ginger
1 tsp (5 ml) minced garlic
1 small onion, finely julienned
½ cup (125 ml) Chinese broccoli (gai lan), trimmed, cut stalk on bias into ½-in (1.25 cm) pieces
¼ lb (125 g) Chinese barbecued pork, cut into ¼-in (0.5 cm) julienne, make ahead, recipe follows
1 cup (250 ml) bean sprouts
3 Chinese mushrooms, rehydrated in warm water until soft, drained, stem removed and thinly sliced ¼-in (0.5 cm)
¼ lb (125 g) white mushrooms, sliced
4 green onions, trimmed, cut into 2-in (5 cm) pieces, white portions julienned
1 lb (500 g) pork tenderloin or a long piece of pork butt
¼ cup (60 ml) hoisin sauce
2 tbsp (30 ml) Shaoxing cooking wine or dry sherry
1 tsp (5 ml) Chinese five-spice powder
Instructions
Bring a large stockpot of salted water to a rapid boil. Add noodles and cook for 1 minute. Drain well and rinse with cold water. Drain well again and allow to drain for 2 hours, turning occasionally until completely dry.
In a small mixing bowl, combine light soy sauce, sugar, sesame oil, rice wine or sherry, white pepper, cornstarch and chicken stock. Set aside.
Heat a cast iron or heavy-bottomed 8 to 10-in (20 to 25 cm) skillet over high heat for about 1 minute or until hot. Add 2 tbsp (30 ml) peanut or canola oil. When a wisp of white smoke appears, place noodles in skillet in an even layer, covering entire bottom. Lower heat to medium, fry for 2 minutes, then fry for 3 minutes more while moving skillet from side to side to ensure noodles brown evenly and do not stick.
Remove pan from heat and slide noodles onto a large flat platter and invert onto another dish over it. Turn dish over and slide noodles back into skillet to fry other side. Turn heat to medium and repeat frying. If needed, add a bit more oil. Set aside when both sides are evenly browned.
Heat wok over high heat and add remaining 2 tbsp (30 ml) oil, swirling to cover wok. When a wisp of smoke appears, add ginger, garlic and onion, stir-fry 10 seconds. Add Chinese broccoli, Chinese Barbecued Pork, bean sprouts, mushrooms and green onions. Stir-fry 1 to 2 minutes until Chinese broccoli is cooked, but still crisp. Make a well in middle of mixture and add reserved sauce mixture. Mix together until sauce is thickened and bubbling and all ingredients are covered with sauce.
Assemble by placing noodles on a preheated plate. Pour contents of wok over noodles and serve. Cut mixture into 4 wedge-shaped pieces and serve.
To make CHINESE BARBECUED PORK: Cut pork in half lengthwise, creating 2 long strips; place into shallow baking dish.
In a bowl, mix remaining ingredients together and spread marinade evenly over pork. Cover and refrigerate for 2 hours.
Preheat oven to 400 F (200 C).
Place pork on a wire rack set in a roasting pan. Roast, turning pork over once, for about 20 minutes, or until centre reaches 150 F (66 C). Remove from oven and let pork rest for 10 minutes before using or serving.
Drink Pairings