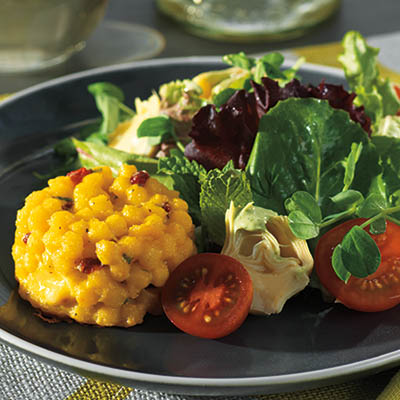 CRISPY ISRAELI COUSCOUS CAKES AND ARTICHOKE GREEN SALAD
Ingredients
Serves 6
½ tsp (2 ml) saffron threads
1 ⅔ cups (400 ml) Israeli couscous
¼ cup (60 ml) berry sugar
⅔ cup (150 ml) plain Greek full-fat yogurt
¼ cup (60 ml) chopped fresh chives
⅓ cup (75 ml) crumbled Macedonian or similar creamy goat's feta
freshly ground black pepper
¼ cup (60 ml) clarified butter
8 oz (250 g) mixed salad greens
14 oz (397 ml) can artichoke hearts, drained and patted dry, halved
8 heirloom cherry tomatoes, halved
¼ cup (60 ml) crumbled feta, plus extra
⅓ cup (75 ml) minced fresh mint
3 tbsp (45 ml) full-fat plain Greek yogurt
2 tbsp (30 ml) fresh lemon juice
1 tbsp (15 ml) fresh mint
salt and freshly ground pepper, to taste
Instructions
To make COUSCOUS CAKES: In a mediumsized saucepan bring 2 cups (500 ml) water to a boil, then stir in saffron threads and let rest for 2 minutes. Stir in couscous and return to a boil. Reduce heat and simmer covered for 10 minutes. Remove from heat and set aside for 15 minutes.
Meanwhile, in a small saucepan combine barberries and sugar. Add ½ cup (125 ml) water and gently simmer to dissolve sugar. Remove from heat and strain barberries, discarding liquid. Transfer to paper towel to drain.
When couscous is tender, transfer to a large bowl and fluff up with a fork. Add yogurt, whisked eggs, chives, crumbled feta, prepared barberries, salt and pepper. Stir together until evenly mixed.
Preheat oven to 350 F (180 C). Line a 12-cup muffin pan with paper liners or use a silicon muffin pan. Evenly divide couscous mixture among cups and firmly press down into cups so mixture will hold together after baking. Drizzle with clarified butter. Bake couscous cakes for 15 minutes or until lightly golden and they become slightly crispy. Remove to a rack for a couple of minutes before turning out cakes and serving.
Meanwhile, to make SALAD: Assemble greens, artichoke hearts, tomatoes, feta, and mint in a large serving bowl. Toss to evenly distribute.
To make DRESSING: In a blender combine yogurt, lemon juice, olive oil, green onions and chopped fresh mint and whirl until smooth. Add salt and pepper to taste.
To serve, place salad onto serving dishes, add couscous cakes, dot plate with dressing, serving extra on side. Season plates with salt and pepper and serve.
Drink Pairings