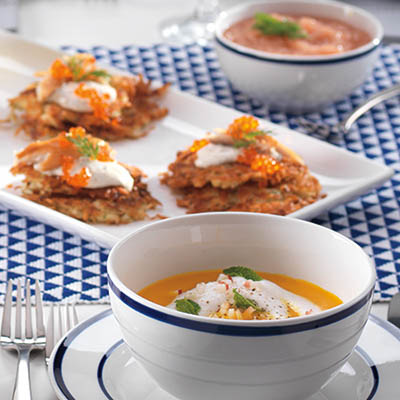 CRISPY POTATO AND SAUERKRAUT LATKES
Ingredients
Serves about 20 latkes
2 lbs (1 kg) baking potatoes, peeled and coarsely grated (about 3 large potatoes)
1 cup (250 ml) sauerkraut, drained and dried
¼ cup (60 ml) chopped fresh dill, plus more for garnish
2 tbsp (30 ml) all-purpose flour
2 tsp (10 ml) caraway seeds
1 cup (250 ml) sour cream
1 tsp (5 ml) finely grated lemon zest
¼ cup (60 ml) unsalted butter, divided
grapeseed oil or peanut oil, for frying
trout roe, optional, for garnish
1¼ lbs (625 g) McIntosh apples, unpeeled, cored and quartered
3 tbsp (45 ml) apple cider
1 tbsp (15 ml) lemon juice
Instructions
Bring a saucepan of salted water to a boil, add potatoes and cook for 1 minute, drain. Line a baking sheet with a kitchen towel, spread out potatoes, cool, squeeze out as much excess water as possible using kitchen towel. Add potatoes to a bowl with sauerkraut and dill, combine. Season to taste with salt and pepper before stirring in egg and flour.
In a dry frying pan, toast caraway seeds over medium-low heat until fragrant. Place into a mortar and pestle and crush until coarsely ground. Stir in a bowl with sour cream and lemon zest. Refrigerate until ready to use.
In a large frying pan, heat 1 tbsp (15 ml) butter and a drizzle of oil over medium heat. Working in batches, spoon ¼ cup (60 ml) mounds of potato mixture into pan and flatten to about ½-in (1 cm) thick. Cook, turning once, until latkes are golden and crispy.
Serve latkes with a dollop of both Rosy Apple Sauce and sour cream sauce. Garnish with torn pieces of trout fillet, trout roe and additional dill sprigs. Serve immediately.
To make ROSY APPLE SAUCE: In a saucepan, stir together all ingredients over medium heat. Simmer, cover and stir occasionally until very soft, about 15 minutes. Pass apples through a food mill or, for a chunky sauce, remove apple skins and mash coarsely with a fork. Refrigerate until ready to use. May be made up to 5 days in advance.
Drink Pairings