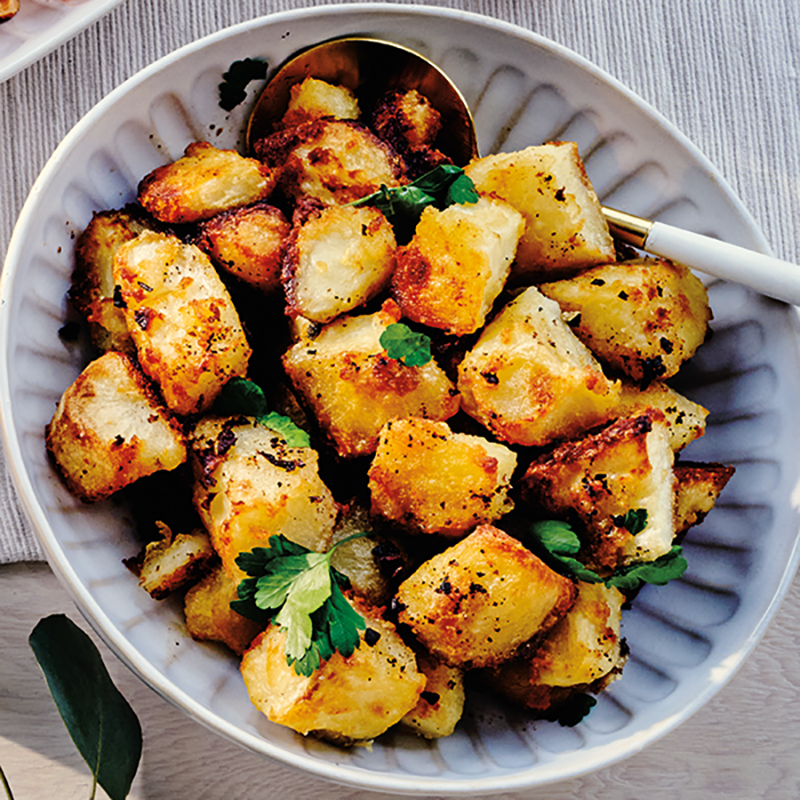 Crispy Potatoes with Garlic Sage Butter
Light and fresh Easter.
Ingredients
Serves 4
4 large russet potatoes, peeled and cut into 1-in (2.5 cm) cubes
salt and pepper, to taste
Instructions
Preheat oven to 400 F (200 C).
Bring a large saucepan filled with enough water to cover potatoes, to a boil.
Cook potatoes in boiling water until slightly soft but not fully cooked through, about 10 to 12 minutes. Strain potatoes and return to saucepan. Cover saucepan with lid and shake vigorously until potatoes get shaggy sides, about 30 seconds.
Pour olive oil into an unlined baking pan and heat in oven for 5 minutes. Remove pan and add potatoes to hot oil. Do not overcrowd pan; use 2 baking pans if needed. Season with salt and pepper to taste and return to oven. Bake for 10 minutes and remove to give potatoes a stir. Bake for further 10 to 15 minutes, until golden brown, crispy and cooked through.
In a small saucepan, melt butter over medium heat. Add garlic and sage leaves and allow to sizzle for 2 to 3 minutes. Be careful not to burn garlic.
Pour garlic butter over potatoes and serve warm.
Drink Pairings