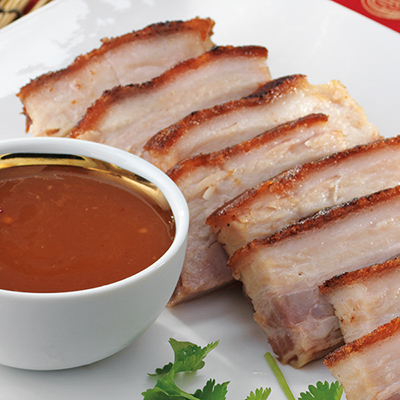 CRISPY ROASTED PORK BELLY
Ingredients
Serves 6 to 8
2½ to 3 lbs (1.25 to 1.5 kg) pork belly
1½ tsp (7.5 ml) Chinese five-spice powder
3 tbsp (45 ml) Chinese rice cooking wine or dry sherry
⅓ cup (75 ml) coarse salt
hot mustard or plum sauce, to serve
Instructions
In a large pot, place pork belly and add enough water to cover it completely. Heat over medium heat and bring to a boil. Parboil pork for about 25 minutes, continuously skimming off any scum that forms on surface. Drain pork and discard cooking liquid. Let pork belly cool until easy to handle.
In a small bowl combine salt, Chinese five-spice powder and sugar, mix well and set aside.
With a metal skewer, prick skin of cooled pork belly, about ¼-in (0.5 cm) apart, until surface is completely covered with small holes. Pour rice wine or dry sherry over pork belly and rub all over only surface of skin. Spread dry rub all over meat portion of belly, not on skin, and refrigerate, uncovered, skin side up, for at least 12 hours or overnight.
Preheat oven to 350 F (180 C). Remove pork belly from refrigerator and wrap meat with aluminum foil, leaving skin exposed. Place pork belly in a roasting pan, skin side up and spread coarse salt over skin. Roast for 45 minutes.
Remove foil wrapping and scrape off salt layer. Fit a rack into roasting pan and place pork belly, skin side up on rack. Raise heat to 425 F (220 C) and continue to roast for another 25 minutes or until skin is crisp, golden and covered with blisters.
Remove from oven and allow to rest for about 10 minutes, Cut into ½-in (1.25 cm) slices and arrange on plater. Serve with hot mustard or plum sauce.
Drink Pairings