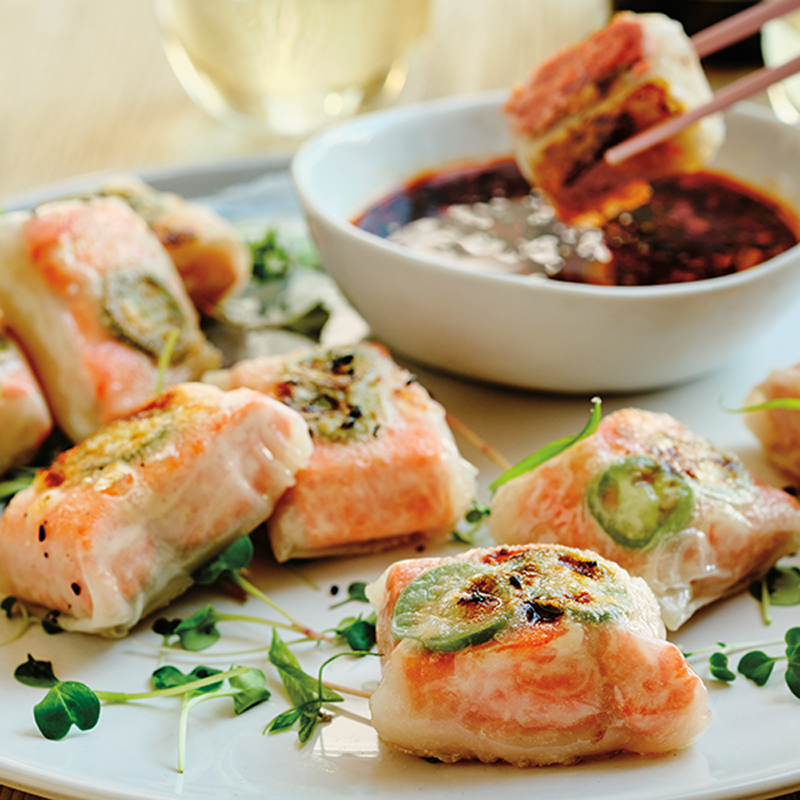 Ingredients
Serves 4 to 6 as an appetizer
2 tbsp (30 ml) rice vinegar
2 tsp (10 ml) grated ginger
2 to 3 tsp (10 to 15 ml) chili oil, or to taste
1½ lbs (750 g) salmon, skin and pin bones removed, cut into 8 cubes*
salt and pepper, to taste
2 tbsp (30 ml) vegetable oil, divided
1 jalapeño or serrano chili, thinly sliced
8 standard round sheets rice paper
1 green onion, trimmed and thinly sliced
1 tsp (5 ml) toasted sesame seeds
Instructions
In a small bowl, mix together soy sauce, rice vinegar, sugar, sesame oil, ginger and chili oil.
Place salmon in a medium bowl. Season to taste with salt and pepper, then add 2 tbsp (30 ml) of soy sauce-vinegar mixture. Reserve remaining mixture for dipping. Let salmon marinate at room temperature for 10 minutes.
Heat a medium non-stick pan over high heat and add 1 tbsp (15 ml) oil. Sear salmon for 1 to 2 minutes per side, or just until golden brown; it does not need to be cooked all the way through at this point. Set salmon aside and wipe out pan.
To assemble, arrange salmon, jalapeño or serrano chili, rice paper and a bowl filled with warm water on your work surface.
Dip rice paper in water to wet it all over. Lay rice paper on a cutting board or counter and let it soften. Place 1 piece of salmon and 1 piece of jalapeño or serrano chili in centre of paper and fold left and right sides in toward the centre, then roll up twice. Trim off any excess paper. Repeat with remaining ingredients.
Heat non-stick pan over medium-high heat and add remaining 1 tbsp (15 ml) oil to pan. Fry salmon bites for about 1 to 2 minutes per side, until crisp and golden brown. Cut one open to check for doneness.
Transfer to a serving platter and garnish with green onion and sesame seeds. Serve with reserved dipping sauce.
Drink Pairings