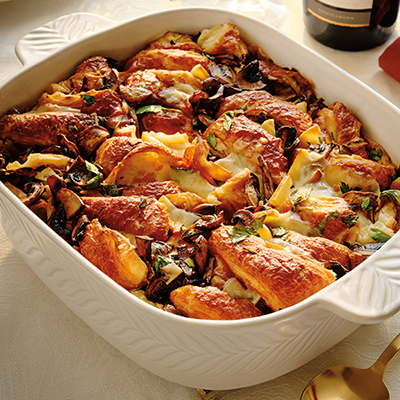 Croissant & Mushroom Stuffing
Ingredients
Serves 8-10
¼ cup (60 ml) butter, divided
2 cups (500 ml) sliced mushrooms
20 croissants, left uncovered for 3 days to become stale
1 cup (250 ml) half-and-half cream
1 cup (250 ml) chicken stock
1 tbsp (15 ml) grainy mustard
3 sprigs thyme, leaves picked and roughly chopped
salt and pepper, to taste
10 oz (283 g) Gruyère cheese, sliced
Instructions
Butter a 9 x 11-in (23 x 28 cm) casserole dish with 2 tbsp (30 ml) butter.
In a large frying pan, sauté mushrooms in remaining 2 tbsp (30 ml) butter over medium heat until cooked through and slightly browned, about 15 to 20 minutes.
Slice each croissant into 3 chunks.
In a mixing bowl, whisk together cream, chicken stock, eggs, mustard and thyme. Season with salt and pepper.
Place croissants in casserole dish. Tuck a slice of cheese and some mushrooms in between each croissant piece. Pour egg mixture over and let sit for 30 minutes.
Meanwhile, preheat oven to 350 F (180 C). Transfer casserole to oven and bake for 30 to 45 minutes, or until liquid has set and a knife comes out clean. Remove from oven and let sit for 5 minutes before serving.
Drink Pairings