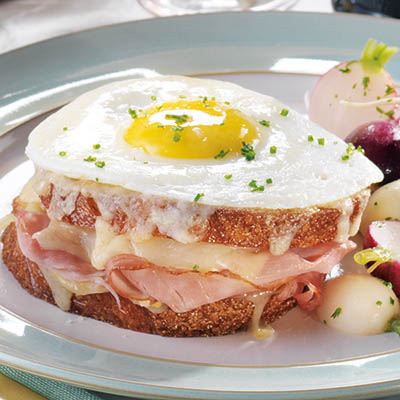 CROQUE MADAME SERVED WITH EASTER EGG RADISH SALAD
Ingredients
Serves 4
8 slices country-style French bread
4 tbsp (60 ml) Dijon mustard
8 slices ham (about 160 g)
8 slices Gruyère cheese (about 160 g)
6 tbsp (90 ml) butter, divided
salt and pepper, to taste
½ cup (125 ml) Gruyère cheese, shredded, divided
1 tbsp (15 ml) unsalted butter
1 tbsp (15 ml) all-purpose flour
¾ cup (175 ml) whole milk
2 tsp (10 ml) kosher salt
1 bunch Easter egg radishes, washed
1 tbsp (15 ml) grainy Dijon mustard
2 tbsp (30 ml) red wine vinegar
2 tbsp (30 ml) extra-virgin olive oil
1 tsp (5 ml) shallots, finely chopped
2 tsp (10 ml) mixed chopped herbs (e.g. chives, tarragon, parsley, dill)
salt and pepper, to taste
Instructions
Preheat oven to 375 F (190 C).
Spread 1 side of each slice of bread with Dijon. Assemble sandwiches with bread, ham and Gruyère slices (2 slices each).
Heat large frying pan, 2 medium pans or griddle to medium heat. Add 2 tbsp (30 ml) butter. Fry sandwiches until lightly golden, about 2 minutes.
Remove sandwiches from pan, add 2 more tbsp (30 ml) butter to pan and melt. Return sandwiches to pan, untoasted side down, and cook until lightly golden, about 2 minutes. Transfer sandwiches to a parchment-lined baking pan and bake in oven for 5 minutes, or until cheese has melted.
Add remaining butter to frying pan and melt over low-medium heat. Gently fry eggs on one side until whites are completely set (sunny side up), season with salt and pepper.
Remove sandwiches from oven and turn oven to broil.
Spread 2 tbsp (30 ml) of béchamel on top of each sandwich and top each with ¼ of the shredded cheese. Return sandwiches to oven and broil just until cheese has melted. Top each sandwich with a fried egg and serve with Easter Egg Radish Salad.
To make BÉCHAMEL SAUCE: In a medium saucepan over medium heat, melt butter. Add flour all at once and mix until no lumps remain, making a roux. Slowly add milk to roux, whisking constantly, until no lumps remain.
Add nutmeg, salt and pepper. Reduce heat to low and let béchamel simmer for 10 to 15 minutes, stirring occasionally. Set aside.
To make EASTER EGG RADISH SALAD: Trim each radish stalk, leaving ¼-in (0.5 cm). Halve each radish and transfer to a medium sized bowl.
In a small bowl, whisk remaining ingredients together and pour over radishes. Toss salad and serve with sandwiches.
Drink Pairings