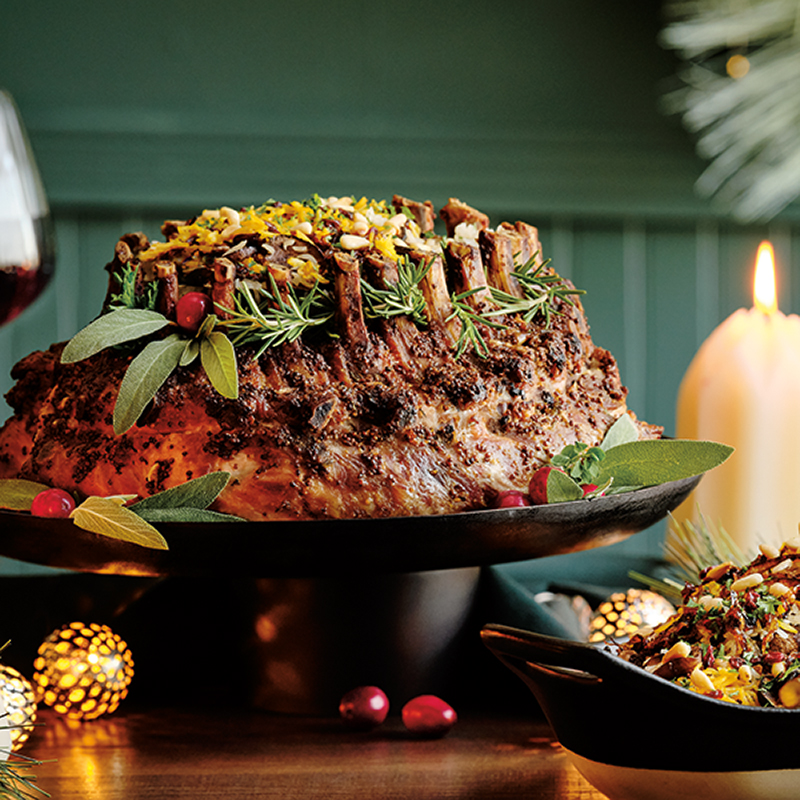 Crown Roast of Pork served with Wild Rice Pilaf
Looking for an alternative to turkey? Here is a festive option for the star of the feast.
Ingredients
Serves 8 - 10
6 cups (1.5 L) warm water
6 tbsp + 2 tsp (90 ml + 10 ml) kosher salt, divided
2 tbsp (30 ml) brown sugar
8 to 10 lb (4 to 4.54 kg) pork crown roast
2 tbsp (30 ml) red or white wine vinegar
1 tbsp (15 ml) Worcestershire sauce
½ tsp (2.5 ml) Tabasco sauce (optional)
2 tbsp (30 ml) prepared grainy mustard
3 to 4 garlic cloves, crushed
1 tbsp (15 ml) chopped fresh rosemary
1½ tsp (7 ml) ground pepper
2 tbsp (15 ml) chopped parsley
WILD RICE PILAF (recipe separate)
Instructions
In a stockpot large enough to fit the roast, mix 6 cups (1.5 L) warm water, 6 tbsp (90 ml) kosher salt and brown sugar until dissolved. Add bay leaf, peppercorns and cloves to the brine and cool to room temperature. Submerge pork crown roast in liquid and brine for 2 to 4 hours.
Preheat oven to 450 F (230 C) and adjust baking rack to lower middle of oven.
Remove crown roast from brine and pat dry with paper towel.
In a small bowl, mix olive oil, red or white vinegar, Worcestershire sauce, Tabasco sauce (if using), mustard, garlic, rosemary, ground pepper and 2 tsp (10 ml) kosher salt. Set aside for 15 minutes to integrate flavours.
Brush prepared marinade evenly over crown roast. Tie ribs together at ends to form a "crown" and place in large roasting pan. Fold aluminium foil over exposed bones only, to avoid burning. Bake for 10 minutes. Without opening oven door, reduce heat to 325 F (170 C) and continue cooking for 20 minutes per pound or until internal temperature reaches 155 F (68 C). Remove from oven and rest for 15 to 20 minutes.
To serve, place roast on large serving platter. Cut and discard string and remove aluminum foil from bones.
Spoon Wild Rice Pilaf into cavity of crown roast or serve alongside in a bowl. Garnish rice with chopped parsley.
Drink Pairings