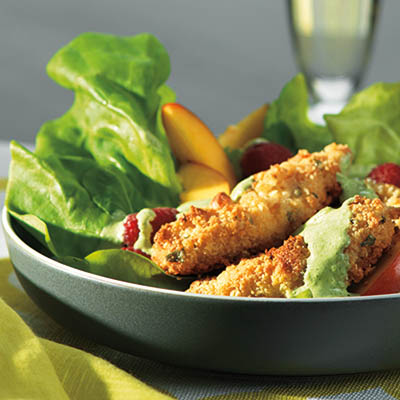 CRUNCHY CHICKEN WITH BUTTERMILK GREEN GODDESS CHIVE DRESSING
Ingredients
Serves 4
BUTTERMILK GREEN GODDESS CHIVE DRESSING:
3 tbsp (45 ml) chopped fresh chives
2 tbsp (30 ml) fresh lemon juice
1 small garlic clove, minced
½ tsp (2 ml) anchovy paste
¼ tsp (1 ml) sea salt, plus extra to taste
freshly ground black pepper, to taste
1 lb (500 g) boneless, skinless chicken tenders
½ cup (125 ml) panko bread crumbs
½ cup (125 ml) coarsely crushed almonds
2 tsp (10 ml) minced fresh sage
freshly ground black pepper
⅓ cup (75 ml) all-purpose flour
2 tbsp (30 ml) unsalted butter, melted
1 head Bibb lettuce, separated into leaves
2 nectarines, pitted and sliced
½ cup (125 ml) raspberries
Instructions
To make the DRESSING: In a small blender combine mayonnaise, buttermilk, chives, lemon juice, garlic and anchovy paste and whirl until smooth. Add ¼ tsp (1 ml) salt and pepper to taste. Can be made ahead and refrigerated for a couple of days.
For the CRUNCHY CHICKEN STRIPS: Preheat oven to 425 F (220 C). Line a large baking sheet with parchment paper and set aside. In a wide, shallow bowl, stir together bread crumbs, almonds and seasonings. In a second shallow bowl, place whisked egg with mayonnaise and whisk together to blend. Place flour into a third shallow bowl.
To bread chicken strips, dip into egg mixture. Then shake in flour until coated. Dip into egg mixture again and then roll in bread crumb mixture. Place strips in single layer on lined baking sheet about 1-in (2.5 cm) apart. Drizzle with melted butter. Bake in centre of preheated oven for 5 minutes. Using tongs, gently turn strips and continue to bake for 2 more minutes or until strips are no longer pink inside. Remove to a rack.
While chicken is baking, assemble SALAD ingredients. Divide Bibb lettuce leaves and fruit among serving plates. Place baked Crunchy Chicken alongside salad and drizzle with Buttermilk Green Goddess Chive Dressing.
Drink Pairings