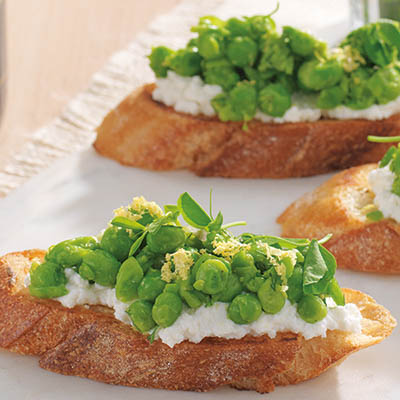 Ingredients
Serves 8
2 cups (500 ml) frozen petite green peas
3 tbsp + ¼ cup (45 ml + 60 ml) extra-virgin olive oil, divided
salt and pepper, to taste
¼ cup (60 ml) crème fraîche
1 cup (250 ml) ricotta cheese
1 baguette, cut into 1-in (2.5 cm) slices on bias
4 oz (125 g) Pecorino Romano cheese, shaved, for garnish
chopped chives, for garnish
Instructions
Preheat oven broiler to low.
Bring a large pot of water to a boil, add enough salt so it's as salty as seawater. Blanch peas in boiling water for 30 seconds. Remove peas and shock in ice bath. Drain well.
In a food processor, add blanched peas, 3 tbsp (45 ml) olive oil, salt and pepper, crème fraîche, half of lemon zest and lemon juice and process until chunky.
In a small bowl, mix remaining lemon zest, ricotta cheese, and salt and pepper to taste.
Brush baguette slices on one side with olive oil and season with more salt and pepper. Broil oiled side for 1 to 2 minutes, or just until bread is golden brown. Remove from oven and spread 2 tbsp (30 ml) of ricotta mixture on each slice, then top each slice with 2 tbsp (30 ml) of pea purée. Drizzle remaining olive oil on each bruschetta. Garnish with Pecorino shavings, chives and pea sprouts.
Drink Pairings