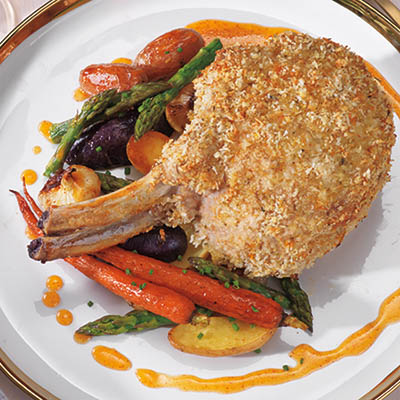 CRUSTED PORK CHOPS WITH HONEY-CHILI ROASTED SPRING VEGETABLES
Ingredients
Serves 6
¼ cup (60 ml) kosher salt
1 small yellow onion, cut into chunks
2½ cups (625 ml) ice water
6 double-cut pork chops, Frenched
1 cup (250 ml) panko bread crumbs
1 tsp (5 ml) dried oregano
½ tsp (2 ml) crumbled dried rosemary
2 tsp (10 ml) orange zest
salt and pepper, to taste
¼ cup (60 ml) liquid honey, divided
2 egg whites, lightly beaten
¼ cup (60 ml) whole wheat flour
2 tbsp (30 ml) coconut oil
HONEY-CHILI ROASTED SPRING VEGETABLES:
3 tbsp (45 ml) liquid honey
½ cup (125 ml) unsalted butter, at room temperature
1 tsp (5 ml) cayenne pepper
1 lb (500 g) fingerling potatoes, cut in half lengthwise
1 lb (500 g) small carrots, cut in half lengthwise
½ lb (250 g) cipollini onions, peeled and cut in half
1 tbsp (15 ml) extra-virgin olive oil
1 bunch asparagus, trimmed
2 tbsp (30 ml) chopped chives
Instructions
To make brine, in a large saucepan bring water and salt to a boil. Once salt has dissolved remove saucepan from heat and stir in garlic, onion, bay leaf, 1 sprig thyme and pepper. Allow mixture to sit for 15 minutes, at room temperature. Add ice water and stir to incorporate. Brine must be cold before adding pork. Add pork chops, making sure they are completely submerged (weighing down with a plate if needed). Place saucepan in refrigerator and allow pork to marinade at least 2 hours, no longer than 8 hours.
Meanwhile, in a large bowl, make crumb coating by mixing together panko, thyme, oregano, rosemary, citrus zests and a good pinch of salt and pepper until well combined. Set aside.
When ready to cook pork chops, preheat oven to 400 F (200 C). Line a baking sheet with aluminum foil.
In a bowl whisk together 2 tbsp (30 ml) honey and egg whites until well combined and frothy. In a second bowl add whole wheat flour.
Remove pork from brine and pat dry with paper towel. Discard brine. Working with one pork chop at a time, dredge in flour, shaking off excess before dipping in honey mixture, letting excess drip off. Dredge in panko mixture, pressing it to coat all sides. Repeat with remaining pork chops.
Preheat coconut oil in a large cast iron or ovenproof frying pan over mediumhigh heat. Brown pork chops two at a time, making sure to not burn panko crust, about 1 to 2 minutes per side. Transfer to prepared baking sheet and repeat with remaining pork chops. Roast in preheated oven until internal temperature registers 145 F (63 C), about 15 to 20 minutes.
This is a good time to prepare and make the Honey-Chili Roasted Spring Vegetables. In a food processor blend together honey, butter and cayenne pepper. Put Honey- Chili Butter aside until ready to use.
Place a large rimmed baking sheet in 400 F (200 C) oven to warm.
In a large bowl toss together potatoes, carrots, onions, rosemary, thyme, a pinch of salt, 2 tbsp (30 ml) softened prepared Honey-Chili Butter and oil. Spread vegetables out in a single layer on warmed baking tray and roast in oven for 15 minutes before gently stirring. Meanwhile toss asparagus with 2 tbsp (30 ml) softened honey-chili butter. Add to roasting vegetables and roast an additional 15 minutes, or until potatoes are tender. Discard herbs, sprinkle with chives, season with extra salt and dot with extra honeychili butter, if desired. Serve while warm.
When pork chops have finished cooking, allow pork chops to rest on baking tray for 10 minutes before plating and serving with Honey-Chili Roasted Spring Vegetables.
Drink Pairings