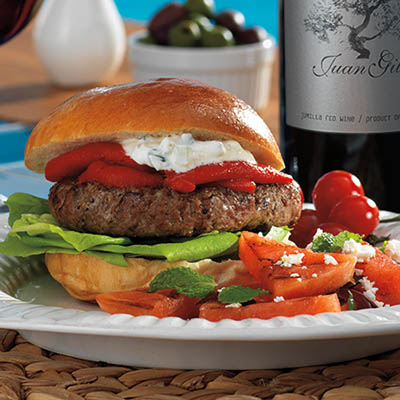 CUMIN AND CORIANDER LAMB BURGERS
Ingredients
Serves 4
½ tsp (2 ml) each, cumin seeds and whole coriander
1 large garlic clove, smashed and minced
½ tsp (2 ml) each, salt and freshly ground
1 lb (500 g) lean ground lamb
4 large brioche buns, halved
2 branches cherry tomatoes on the vine
8 leaves bibb (or butter) lettuce
2 roasted red peppers, peeled and cut into quarters
½ cup (125 ml) thick, plain Greek yogurt
1/3 cup (75 ml) very finely diced, unpeeled English cucumber
2 tbsp (30 ml) mayonnaise
freshly ground black pepper, to taste
Instructions
Combine cumin and coriander in a small, dry frying pan. Heat over medium, shake pan occasionally, until seeds begin to toast and lightly smoke, about 2 minutes. Transfer to a mortar and pestle and grind to a powder. Place in a large bowl with garlic, lemon zest, salt and pepper. Add ground lamb and work in seasonings using your hands until evenly mixed. Shape meat into 4 even-sized patties about 4-in x ¾-in (10 cm x 1 cm). Refrigerate while preparing remaining ingredients, for flavours to blend.
To make SAUCE: Combine and stir together all ingredients in a small bowl. Cover and refrigerate.
Grease barbecue grill and preheat to about 375 F (190 C). Grill patties over direct medium heat with lid closed until cooked to medium doneness, about 7 to 9 minutes, turning once. Lamb should register about 160 F (70 C) on a meat thermometer inserted in the centre of patties.
During last minute of grilling, toast brioche buns cut-side down and cherry tomatoes on the side until slightly blistered.
To serve, line each bun with 2 lettuce leaves. Top with lamb burger, a couple pieces of roasted red pepper and a generous dollop of Creamy Yogurt Sauce. Serve with roasted cherry tomatoes.
Drink Pairings