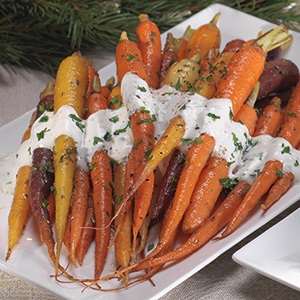 Cumin-Roasted Carrots With Lemon Honey Yogurt Dressing
Ingredients
Serves Serves 8
Instructions
Preheat oven to 450 F (230 C).
Toss together carrots, orange juice, cumin, thyme, bay leaves and oil on a rimmed baking sheet. Season with a good pinch of salt and pepper. Roset tossing occasionally, until carrots are starting to caramelize and are fork tender, 30 to 35 minutes.
Remove bay leaves and set aside while preparing dressing.
In medium-sized bowl whisk together yogurt, tahini, lemon juice, lemon zest, honey and chopped cilantro. Season to taste with salt and thin to desired consistency with water.
To serve, place carrots on serving platter and drizzle with some of the Lemon Honey Yogurt Dressing.
Garnish carrots with extra cilantro leaves and serve with remaining dressing.
Drink Pairings