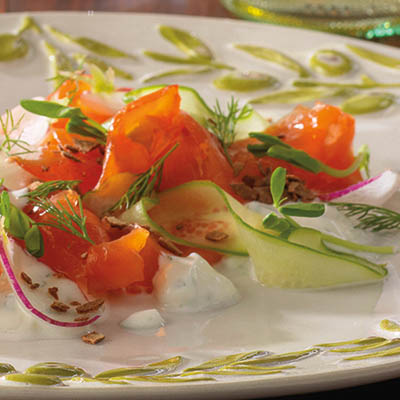 CURED SPRING SALMON SALAD
Ingredients
Serves 4
2 lbs (1 kg) spring or sockeye salmon fillet, skin on
1 cup (250 ml) kosher salt
½ cup (125 ml) granulated sugar
1 tbsp (15 ml) fennel pollen
1 tsp (5 ml) ground pepper
½ cup (125 ml) plain Greek yogurt
2 tbsp (30 ml) lemon juice
4 sprigs chervil, chopped
4 chive fronds, finely chopped
1 tsp (5 ml) liquid honey
10 oz (300 g) Cured Salmon
6 radishes, washed and thinly sliced
2 mini cucumbers, unpeeled and thinly shaved, lengthwise
1 cup (250 ml) pea shoots
3 sprigs fresh dill, coarsely chopped
½ cup (125 ml) rye crackers, crushed
Instructions
To CURE SALMON: Trim fillet, removing belly and any thin pieces of flesh. You will need a piece of salmon that is even in thickness, so it cures evenly.
In a small bowl, combine salt, sugar, fennel pollen and pepper. Stir to blend.
Cut a piece of plastic wrap large enough to seal entire fillet of salmon. Pour half the salt mixture on 1 half of the plastic wrap and spread out an even layer large enough for salmon fillet to rest on top. Place salmon on salt layer and evenly coat top side of fillet with remaining salt mixture.
Fold plastic wrap over fillet and seal tightly. Lay salmon package on a baking sheet. Place another baking sheet on top of salmon and place some weights on top, such as some cans or a cast iron frying pan.
Refrigerate fish for 24 hours. Then remove salmon from plastic wrap and rinse thoroughly under cold running water to remove salt. Place on a wire rack over top of a baking sheet and return to refrigerator, uncovered, for 12 more hours to dry.
When ready to serve, prepare SALAD: In a small bowl whisk together yogurt, lemon juice, chervil, chives, salt and honey. Spread yogurt mixture on bottom of a serving platter.
Thinly shave cured salmon and place decoratively on top of yogurt mixture. Scatter with radishes, cucumbers, pea shoots and dill. Garnish with crushed rye crackers. Serve immediately.
Drink Pairings