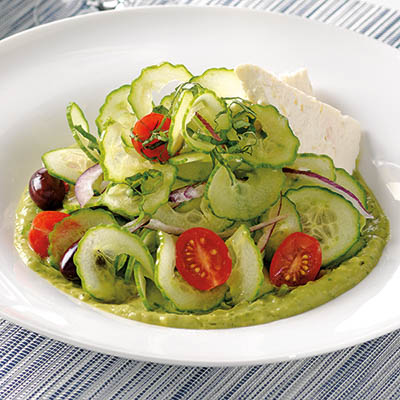 CURLY GREEK SALAD WITH AVOCADO PESTO
Ingredients
Serves 2 to 4
½ cup (125 ml) cherry tomatoes, halved
⅓ cup (75 ml) red onion, thinly sliced
⅓ cup (75 ml) kalamata olives, pitted
⅓ cup (75 ml) crumbled feta cheese
¼ cup (60 ml) basil leaves
Instructions
With a vegetable spiralizer, spiral cut cucumber using flat blade to produce wide pappardelle-shaped vegetable noodles. Add noodles to a large salad bowl along with tomatoes and red onions. Set salad aside while making the Avocado Pesto, recipe follows.
Toss salad with dressing until generously coated. Remaining dressing will keep in the refrigerator up to 3 days. Top with crumbled feta and kalamata olives.
To make AVOCADO PESTO: In a food processor, add all ingredients and blend on high for about 1 minute, or until smooth and creamy. Makes about 1½ cups (375 ml).
Drink Pairings