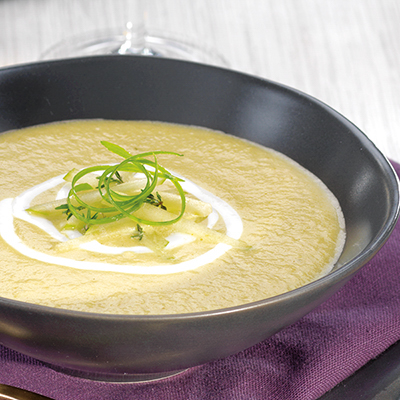 CURRIED CARAMELIZED ONION AND APPLE SOUP
Ingredients
Serves 4 to 6
2 lbs (1 kg) yellow onions, thinly sliced
2 garlic cloves, coarsely chopped
1 tbsp (15 ml) coarsely chopped fresh ginger
3 Granny Smith apples, peeled, cored and chopped, plus ¼ Granny Smith Apple, sliced into thin matchsticks, for garnish
1 tbsp (15 ml) chopped fresh thyme leaves
1 tbsp (15 ml) curry powder
½ cup (125 ml) white wine vinegar or apple cider vinegar
4 cups (1 L) chicken or vegetable broth
1 cup (250 ml) heavy cream
salt and freshly ground white pepper
½ cup (125 ml) plain yogurt, for garnish
1 tsp (5 ml) thyme leaves, for garnish
Instructions
In a large heavy-bottomed stockpot over medium heat, heat butter and olive oil. Add onions, stirring occasionally until golden and caramelized, about 25 to 30 minutes. Add garlic, ginger, apples, thyme and curry powder, cook for 2 to 3 minutes or until fragrant.
Add wine or cider vinegar to deglaze. Increase heat to high and add broth. Bring to a boil, then reduce and simmer for 20 minutes or until apples are very soft.
Purée soup with an immersion blender until smooth, or carefully in batches with a blender. Return soup to stockpot and simmer until hot. Stir in cream and season.
Ladle into warm soup bowls and garnish with drizzle of yogurt, apple matchsticks and thyme leaves.
Drink Pairings