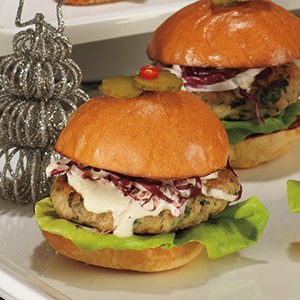 CURRIED TURKEY SLIDERS WITH LIME MAYO
Ingredients
Serves 8
1 lb (500 g) ground turkey
1 large garlic clove, smashed and minced
1-in (2.5 cm) piece ginger root, peeled and grated
¼ cup (60 ml) finely chopped cilantro
2 tbsp (30 ml) minced fresh chives
1½ tsp (7 ml) curry powder
freshly ground black pepper
1 tbsp (15 ml) olive oil, plus extra if needed
8 mini brioche buns, halved horizontally
4 leaves butter lettuce, halved
½ small head radicchio, thinly shaved
½ cup (125 ml) mayonnaise
1 tbsp (15 ml) lime juice
½ tsp (2 ml) ground cumin
Instructions
To make Sliders, in a bowl, combine turkey, garlic, ginger, cilantro, chives, curry and salt. Work ingredients together using your hands. Sprinkle generously with black pepper. Mix together and shape meat into 8 sliders, just large enough to comfortably fit brioche buns. Set aside while preparing Lime Mayo.
To make Lime Mayo, in a small bowl, combine all ingredients. Whisk to blend. Cover and refrigerate.
When ready to cook Sliders, heat oil in a frying pan. Cook a few at a time, over medium-high heat for 3 to 4 minutes per side or until browned and cooked through. Inside temperature should read 165 F (74 C) when tested in centre with a meat thermometer.
Toast brioche buns, if desired. To assemble, line bottom half of buns with butter lettuce. Place a slider on top with a generous dollop of Lime Mayo and shaved radicchio. Place top half of brioche on top and serve immediately.
Drink Pairings