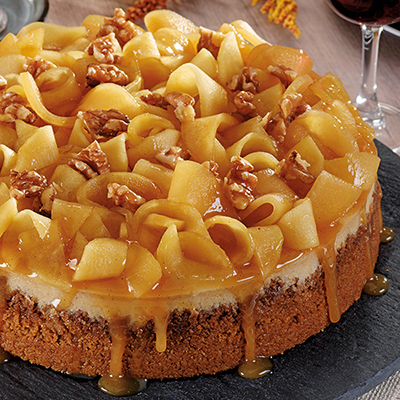 DAIRY-FREE CAULIFLOWER CAKE WITH CARAMEL APPLE TOPPING
Ingredients
Serves 12
¾ cups (175 ml) walnut pieces, plus extra for garnish
1 tsp (5 ml) ground cinnamon, divided
1½ cups (375 ml) graham cracker crumbs
1 cup (250 ml) coconut oil, melted, divided, plus extra
1 lb (500 g) cauliflower, coarsely grated, about 1½ cups (375 ml)
2 cups (500 ml) raw cashews, soaked in water overnight
1 cup (250 ml) coconut milk
¾ cup (175 ml) maple syrup
1 tbsp (15 ml) vanilla extract
2 tbsp (30 ml) lemon juice
¼ cup (60 ml) tapioca flour
Poached Apples, make ahead
Apple Caramel Sauce, make ahead
2 cups (500 ml) apple juice
¼ cup (60 ml) granulated sugar
½ vanilla bean, seeds scraped out
3 each, Fuji and Granny Smith apples, peeled and thinly sliced
1 cup (250 ml) apple juice
½ vanilla bean, split lengthwise
2 cups (500 ml) granulated sugar
1 tbsp (15 ml) clear corn syrup or clover honey
1 cup (250 ml) canned coconut cream
Instructions
Preheat oven to 350 F (180 C). Line bottom of a 9-in (23 cm) springform pan with a round of parchment paper. Grease lightly with some coconut oil and set aside.
In a food processor, pulse walnut pieces and ½ tsp (2.5 ml) cinnamon together until walnuts are finely ground. Add graham cracker crumbs and ¼ cup (60 ml) coconut oil. Pulse until well combined. Transfer to prepared springform pan and firmly press along the bottom and about a quarter way up sides of pan. Refrigerate while making filling.
In a large frying pan over medium heat, add grated cauliflower. Stir in salt and cook, stirring constantly until warmed through but not browned, about 5 to 8 minutes. Transfer to a cheesecloth-lined colander and set aside to drain and cool slightly. Once cauliflower is cool enough to handle, wrap up in cheesecloth and squeeze out as much excess water as possible.
Drain and rinse cashews under cold water before placing in a food processor along with coconut milk and cauliflower. Process, scraping down sides of food processor as needed, until very smooth and creamy, about 5 minutes. Add remaining ¾ cup (175 ml) coconut oil, maple syrup, ½ tsp (2.5 ml) cinnamon, vanilla extract, lemon zest and juice before blending again for 1 minute. Add eggs, 1 at a time, processing for about 10 seconds between each addition. Add tapioca flour and process for a final 30 seconds. Pour mixture into reserved crust.
Bring a kettle of water to a boil. Place springform pan in a 10-in (25 cm), high-sided cake pan (or wrap in several layers of tinfoil leaving top of springform pan open) before lowering it into a large roasting pan. Place roasting pan in oven before carefully filling roasting pan with boiling water until it reaches about half way up side of cake pan. Bake for 15 minutes before decreasing oven temperature to 250 F (130 C) and continue to bake for another 90 minutes. Turn oven off, prop oven door open with a wooden spoon and let cake sit undisturbed for 1 hour. Remove from oven and set on a wire rack to cool completely to room temperature, about 2 hours. Run a thin paring knife around edge of cake to loosen from springform pan and remove side of pan. Refrigerate, uncovered, until chilled through, at least 4 hours and up to 24 hours.
When ready to serve, top cake with Poached Apples and drizzle liberally with Apple Caramel Sauce. Garnish with extra walnut pieces, if desired. Serve any additional sauce on side.
To make POACHED APPLES: In a large skillet over high heat, bring apple juice, sugar and vanilla seeds to a boil and cook until reduced by half, about 10 to 15 minutes. Add apples and cook, stirring occasionally, until softened but not falling apart. Using a slotted spoon, transfer apples to a plate and let cool slightly. Poached Apples may be made ahead and refrigerated in their cooled cooking liquid for up to 3 days. Makes about 3 cups (750 ml).
To make APPLE CARAMEL SAUCE: In a heavy-bottomed saucepan over medium-high heat, bring apple juice and vanilla bean to a boil. Boil until reduced to ⅔ cups (150 ml), about 30 minutes. Add sugar, corn syrup and salt, whisking until sugar has dissolved. Let cook, without stirring, until sauce comes to a boil. Allow to continue boiling until mixture thickens and darkens slightly. If using a candy thermometer, caramel should register 240 F (116 C). Remove from heat and stir in coconut cream. Return caramel to medium heat and cook until thick enough to coat back of a wooden spoon, about 5 minutes.
Transfer caramel to a heatproof container and cool to room temperature before serving. Sauce will thicken as it cools. Sauce may be stored in an airtight container and kept refrigerated for up to 2 weeks. Makes about 2 cups (500 ml).
Drink Pairings