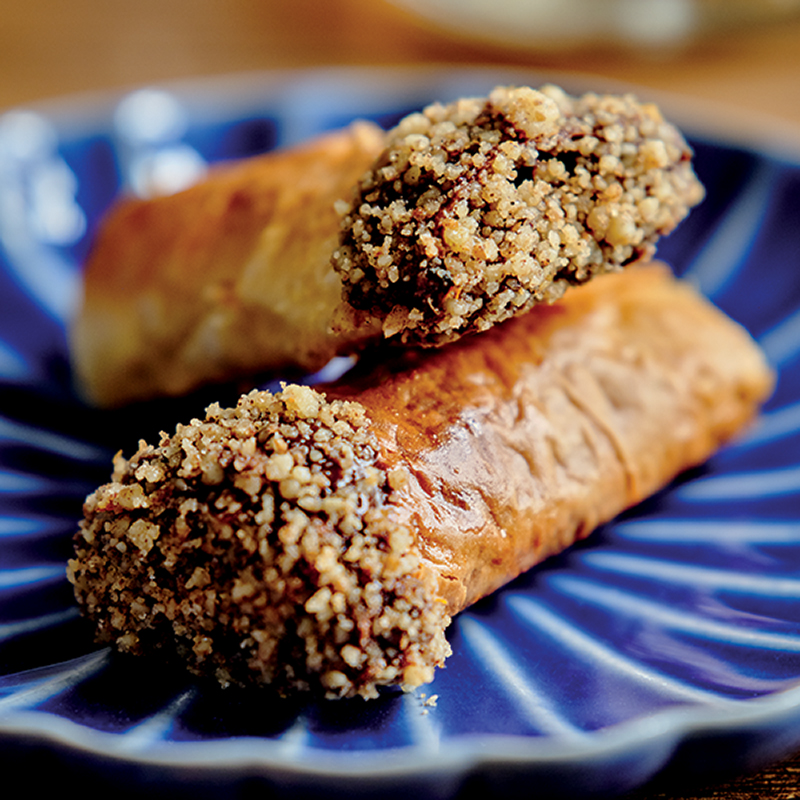 Dark-Chocolate Dipped Baklava Rolls
Ingredients
Serves 15 baklava rolls
½ cup + 1 tbsp (125 + 15 ml) sugar, divided
1 orange, zest and juice, divided
2½ cups (625 ml) raw walnut pieces
½ tbsp (7.5 ml) ground cinnamon
½ cup (125 ml) salted butter, plus extra if needed
10 phyllo sheets, thawed if frozen
½ cup (125 ml) dark chocolate chips
1 tbsp (15 ml) whipping cream
Instructions
Preheat oven to 350 F (180 C). Line a baking sheet with parchment paper.
To make syrup, in a small saucepan over medium-high heat, stir together ½ cup (125 ml) sugar, orange juice and water. Once sugar has dissolved completely, remove from heat and set aside to cool.
In bowl of a food processor, combine walnuts, cinnamon, remaining 1 tbsp (15 ml) sugar, salt and orange zest. Pulse on high until texture resembles fine sand. Reserve ½ cup (125 ml) walnut mixture and set aside.
In a small heatproof bowl, microwave butter and honey on high for 30 seconds, or until melted.
Lay a sheet of phyllo on a clean, dry surface. Using a pastry brush, brush entire sheet with butter mixture. Lay a second sheet on top and repeat. Roughly divide the walnut mixture into fifths. With the long edge of the phyllo sheet parallel to you, spoon ¹/₅ of the walnut mixture along the entire edge of the pastry to form a 1-in (2.5 cm) line. Gently roll pastry up completely to form a log. Repeat with remaining phyllo; you should have 5 rolls.
6 Place baklava on lined baking sheet, snugly side by side like sardines. Don't worry if there is open space left on baking sheet. Brush tops of baklava with remaining butter mixture. Transfer to oven and bake for 15 to 20 minutes, or until golden brown and crisp. Remove from oven and immediately pour syrup over baklava. Let cool at room temperature for 1 hour.
In a heatproof bowl, combine chocolate chips and whipping cream. Microwave on high for 20-second intervals until melted, stirring each time.
Cut between each log to separate the baklava, then cut each log into 3 pieces. Dip each into melted chocolate, then into reserved walnut mixture. Transfer to a lined baking sheet to set before serving, about 10 minutes. Store in an airtight container at room temperature for up to 1 week.
Drink Pairings