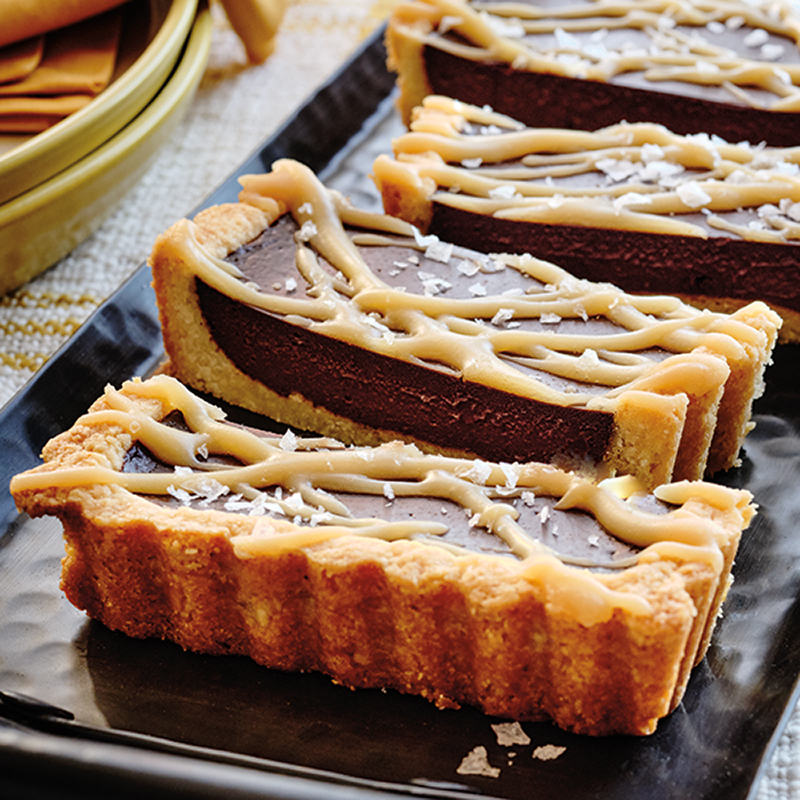 Dark Chocolate & Honey Mustard Tart
Bold and rich, with the ability to add a bright and fiery flavour to an impressive array of seasonal dishes, mustard is a must-have pantry staple. Let's take mustard from the sidelines as a simple condiment to the star ingredient. Just the subtle hint of mustard takes this chocolate tart to new levels.
Ingredients
Serves 8
DARK CHOCOLATE MUSTARD TART:
1¼ cups (310 ml) all-purpose flour
½ cup (125 ml) slivered blanched almonds
¼ cup (60 ml) granulated sugar
½ cup + 1 tbsp (140 ml) cold unsalted butter, cut into large cubes, divided
½ tsp (2.5 ml) vanilla extract
2 tbsp (30 ml) honey mustard, divided
3 tbsp (45 ml) whole milk
⅔ cup (175 ml) whipping cream
6 oz (180 g) dark chocolate (70%), chopped
flaky sea salt, for garnish
¼ cup (60 ml) light brown sugar
2 tbsp (30 ml) unsalted butter, cut into cubes
2 tbsp (30 ml) half-and-half cream
¾ cup (175 ml) icing sugar, sifted
1 tsp (5 ml) honey mustard
¼ tsp (1 ml) vanilla extract
Instructions
To make tart crust, in a food processor, blend flour, almonds, granulated sugar and salt until nuts are finely ground. Add ½ cup (125 ml) butter and pulse until mixture resembles coarse meal. Pulse in vanilla extract and 1 tbsp (15 ml) honey mustard to form moist clumps. Press evenly into a 4 x 14-in (10 cm x 35 cm) fluted rectangular tart pan with removable bottom. Freeze for 30 minutes.
While crust is freezing, preheat oven to 375 F (190 C).
Place tart pan on baking tray and bake crust until just starting to turn golden brown, about 10 to 15 minutes. Press any puffed up parts back into tin. Set aside to cool on a wire rack while preparing filling. Reduce oven temperature to 350 F (180 C).
To make tart filling, in a small saucepan, add milk and whipping cream and bring to a simmer over medium heat, stirring often. Add chocolate and whisk until melted and mixture is smooth and glossy. Remove saucepan from heat and add remaining 1 tbsp (15 ml) butter, egg and remaining 1 tbsp (15 ml) honey mustard. Whisk until fully incorporated. Pour chocolate mixture into crust and bake until filling is barely set in middle, about 15 to 20 minutes. Transfer tart to a wire rack to cool completely to room temperature before placing in refrigerator for at least 2 hours.
Once tart has been refrigerated, make Honey Mustard Glaze. Place brown sugar and butter in a medium saucepan and set over medium heat. Stirring often, cook until butter melts and mixture is well combined. Add half-and-half cream and bring mixture to a gentle boil, stirring constantly. Cook until lightly thickened, about 1 to 2 minutes. Remove saucepan from heat and whisk in icing sugar, honey mustard and vanilla extract to make a smooth, thick sauce. Drizzle warm Honey Mustard Glaze over chilled tart and sprinkle with flaky sea salt. Let glaze set at room temperature for 30 minutes.
To serve, unmould tart on a serving platter, cut and serve.
Drink Pairings