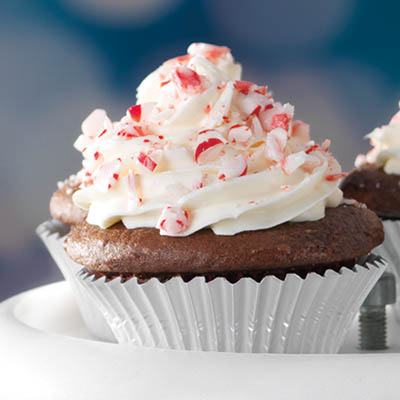 DARK CHOCOLATE PEPPERMINT CUPCAKES
Ingredients
Serves about 16 cupcakes
4 oz (125 g) dark chocolate, coarsely chopped
½ cup (125 g) unsalted butter, softened
1 tsp (5 ml) vanilla extract
2 tsp (10 ml) peppermint extract
1 tbsp (15 ml) baking powder
2 cups (500 ml) all-purpose flour
½ cup (125 ml) full-fat sour cream or whole milk yogurt
PEPPERMINT CANDY CANE CREAM CHEESE FROSTING:
½ cup (125 ml) butter, softened to room temperature
8 oz (250 g) cream cheese, at room temperature
½ tsp (2 ml) vanilla extract
1 tsp (5 ml) peppermint extract
1 to 3 tbsp (15 to 45 ml) whipping cream
red gel food colouring (optional)
crushed candy canes or red and white mints
Instructions
Preheat oven to 350 F (180 C). Line a standard cupcake pan with paper liners. Set aside.
In a heatproof bowl, add chocolate and microwave at 20-second intervals, stirring between until melted and smooth. Set aside to cool, stirring occasionally.
In a large bowl with a stand mixer, cream together butter and sugar until light and fluffy. Beat in egg whites one at a time, followed by vanilla and peppermint extracts, scraping sides as needed. Mix in cooled chocolate, salt and baking powder. Add flour in ½ cup (125 ml) portions until well blended, increasing speed after each addition. Add sour cream and mix until just combined.
Divide batter between prepared paper liners using a regular-sized ice cream scoop, about ⅔ full. Bake for 20 minutes or until a skewer inserted into the centre comes out clean. Remove from oven and place on wire rack to cool. Serve topped with Peppermint Candy Cane Cream Cheese Frosting.
To make PEPPERMINT CANDY CANE CREAM CHEESE FROSTING: Place butter in a mixing bowl and whip with electric beaters until smooth. Add cream cheese and blend until well mixed together, about 30 seconds. Add icing sugar, about ½ cup (125 ml) at a time, blending at low speed until combined. Increase to medium speed and beat until fluffy. Add vanilla and peppermint extracts. Slowly add whipping cream, a small amount at a time, until desired consistency. Beat until well combined and fluffy.
To create candy cane stripe effect (optional), before filling a large piping bag with frosting, add some red gel food colouring to a toothpick, and draw two to four vertical lines with red dye on inside of piping bag. Then carefully fill bag with frosting. Squeeze some frosting into a bowl until red striping starts to appear. Frost with a round twirl of icing on each cupcake. Garnish tops with crushed candy canes just before serving, or they will "melt and bleed" if left too long.
Drink Pairings