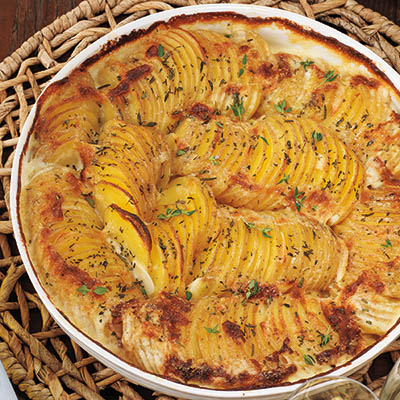 Ingredients
Serves 6
4 tbsp (60 g) melted butter, divi
3 lbs (1.5 kg) small Yukon Gold potatoes or yellow potatoes
2 garlic cloves, finely sliced
1½ cups (375 ml) whipping cream
1 rosemary sprig, leaves removed and finely chopped
3 thyme sprigs, leaves removed and finely chopped
salt and freshly ground pepper
Instructions
Preheat oven to 350 F (180 C).
Using 1 tbsp (15 ml) of butter, brush a medium sized gratin dish. Using a mandolin or a sharp knife, slice potatoes very thinly, about ⅛-in (0.25 cm). As they are sliced, stack potatoes in piles and pack them into the dish standing upright, spreading them apart slightly, starting from outside, building a trail around the dish and then spiraling towards the middle. Divide the garlic and slip garlic slices in between some of the potatoes.
Drizzle cream and remaining melted butter over potatoes, then sprinkle rosemary and thyme over top. Season well with salt and pepper.
Bake for 1 hour or until potatoes are tender and cooked through. Increase heat to 400 F (200 C) and bake for another 10 to 15 minutes to crisp top.
Drink Pairings