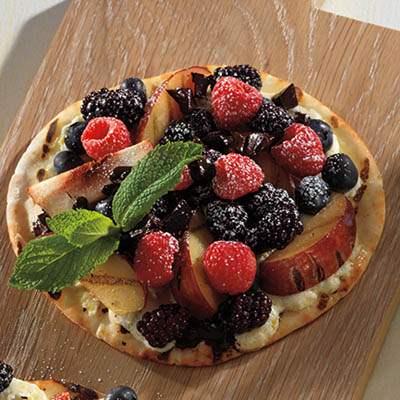 DESSERT FLATBREAD WITH LEMON-HONEY MASCARPONE CHEESE, BERRIES AND CHOCOLATE
Ingredients
Serves 4
2½ cups (625 ml) all-purpose flour
1 x 7 g package instant or quick-rise yeast
3 tbsp (45 ml) granulated sugar
1 cup (250 ml) warm water, about 130 F (50 C)
2 cups (500 ml) mascarpone cheese
3 tbsp (45 ml) liquid honey
2 nectarines, pitted, cut into thick wedges and grilled
2 plums, pitted, cut into wedges and grilled
1 cup (250 ml) raspberries
1 cup (250 ml) blueberries
1 cup (250 ml) blackberries
½ cup (125 ml) chopped dark chocolate or chocolate chips
icing sugar and chopped mint leaves, for garnish
Instructions
In a large mixing bowl add 2 cups (500 ml) flour, yeast, sugar, and salt. Gradually stir in warm water and 2 tbsp (30 ml) olive to make a soft dough. Knead on lightly floured surface until smooth and elastic, about 5 to 10 minutes. Add more flour if needed. Cover and let rest on floured surface 10 minutes. Alternatively, this can be done in an electric mixer with a dough hook attachment.
Brush barbecue grill with olive oil and preheat to 450 F (230 C).
Roll or press dough into a 12- or 14-in (30 to 35 cm) circle. Or divide dough into 4 small flatbreads and roll out. Spray lightly or brush surface with vegetable oil spray or olive oil and allow dough to rest 10 minutes while barbecue preheats. Place flatbread on the grill, oiled-side down. Cover grill and bake 3 to 7 minutes or until grill marks appear on the underside and it turns golden brown and the top starts to bubble. Brush top of flatbread with olive oil and flip over. Grill until golden brown and dough is just firm, about another 2 minutes. Transfer to a baking sheet pan. Close barbecue.
In a mixing bowl, combine mascarpone, honey, zest and juice. Spread over pizza and scatter with grilled fruit and berries. Top with chopped chocolate. Transfer sheet pan with flatbread back to the barbecue. Close cover and barbecue, just until chocolate is melted and fruit is warm, about 2 minutes. Dust with icing sugar and garnish with chopped mint before serving.
Drink Pairings