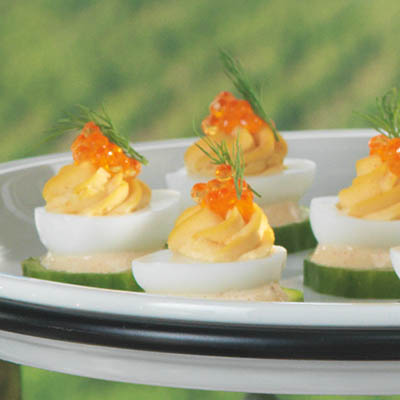 DEVILLED QUAIL EGG CANAPÉS
Ingredients
Serves 24
1 tbsp (15 ml) Dijon mustard
¼ cup (60 ml) mayonnaise or crème fraîche
¼ tsp (1 ml) smoked Spanish paprika
salt and pepper, to taste
trout caviar, for garnish (optional)
Instructions
In a large bowl, prepare an ice-water bath, set aside.
Place quail eggs in a medium-sized saucepan and cover with several inches of cold water. Cover saucepan and bring to boil over high heat. Turn off heat, leaving saucepan on element to sit for 2 minutes, covered, stirring several times to ensure even cooking. Use a slotted spoon to transfer eggs to ice-water bath. Let cool completely, about 5 minutes. Peel eggs and place in a bowl. At this point, eggs may be covered with plastic wrap and refrigerated until ready to use, up to 6 hours.
In a small bowl, combine mustard, mayonnaise and paprika.
Cut eggs in half lengthwise and gently remove yolks to a medium-sized bowl. Mash yolks with fork until smooth. Stir in 2 tbsp (30 ml) mustard mixture and season with salt and pepper to taste. Transfer mixture to pastry bag fitted with small star tip before piping into empty egg halves.
Cut cucumber into ½-in (1.25 cm) rounds. Spread a small amount of remaining mustard mixture onto each cucumber round. Place an egg half on top of each before garnishing with trout caviar and a sprig of dill. Transfer to a serving platter and serve immediately.
Drink Pairings