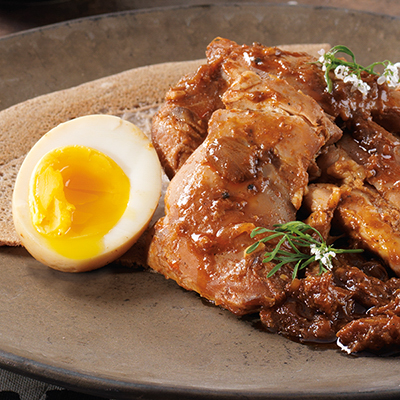 DORO WOT SERVED WITH INJERA
Ingredients
Serves 4 to 6
Injera Flatbread, to serve, make ahead, recipe follows
1 lb (500 g) unsalted butter
4 tsp (20 ml) chopped fresh ginger
1 tsp (5 ml) ground cumin
1 tsp (5 ml) fenugreek seeds
1 tsp (5 ml) dried oregano
8 green cardamom pods, crushed
3 medium onions, thinly sliced
2 lbs (1 kg) bone-in chicken thighs
3 tbsp (45 ml) Berbere spice (Available at specialty grocery stores)
1 tbsp (15 ml) ground ginger
2 tbsp (30 ml) chopped garlic
2 tbsp (30 ml) tomato paste
1 tbsp (15 ml) sweet paprika
2 cups (500 ml) chicken stock
4 soft-boiled eggs, peeled
¾ cup (175 ml) all-purpose flour
vegetable oil, for greasing
Instructions
Make Inerja Flatbread, if desired, recipe below.
Make a spiced butter: in a small saucepan over low heat, melt unsalted butter. Skim off foam that rises to top. Continue until butter is clear. Then add chopped shallots, 8 chopped garlic cloves, fresh ginger, ground cumin, nutmeg, turmeric, fenugreek seeds and oregano. Add cardamom pods and allow to cook for about 20 minutes. Remove from heat and allow to cool. Once cooled, strain spiced butter through a cheesecloth and put into a clean container. Yields about ½ cup (125 ml) spiced butter, reserve 4 tbsp (60 ml) for Doro Wat and save remainder for another use. Can keep refrigerated for up to 1 month.
In a large saucepan or Dutch oven over medium heat, heat 3 tbsp (45 ml) of spiced butter. Add sliced onions and cook for about 10 to 15 minutes, until caramelized, stirring occasionally. While onions are cooking, season chicken with salt and pepper, set aside.
Once onions are a deep brown colour, add remaining 1 tbsp (15 ml) spiced butter, Berbere spice, ground ginger and 2 tbsp (30 ml) garlic. Cook for about 5 minutes, or until garlic has softened. Stir constantly so it doesn't burn. Add tomato paste, paprika and chicken stock and bring to a boil. Add chicken, stir to coat and turn heat down to a low simmer. Cover and allow to cook for about 30 minutes, or until chicken is cooked and tender.
Add eggs and stir gently so that they are covered in sauce. Cover and allow to cook for about 5 minutes, then turn off heat and allow to sit for an additional 5 minutes before cutting eggs in half and serving with Injera Flatbread, if desired, recipe follows.
INJERA FLATBREAD In a medium-sized bowl, whisk together all ingredients, except oil, until smooth. Cover with plastic wrap and let sit at room temperature for 24 to 48 hours. Batter will ferment, it will have a slightly sour and sweet smell and will slightly foam.
Dip a paper towel in vegetable oil and lightly wipe a 10-in (25 cm) nonstick frying or crêpe pan. Heat pan over medium heat. Whisk batter so that it comes together (it may separate). Pour about ⅓ cup (75 ml) batter into heated pan and turn pan so that batter spreads evenly over it. Bubbles will appear, continue cooking until bread is firm to the touch. Do not flip, it is only cooked on 1 side. Remove bread to a plate and cover with a towel to keep warm. Repeat with remaining batter. Serve warm. Will keep for up to 1 day if wrapped tightly, best served same day.
Drink Pairings