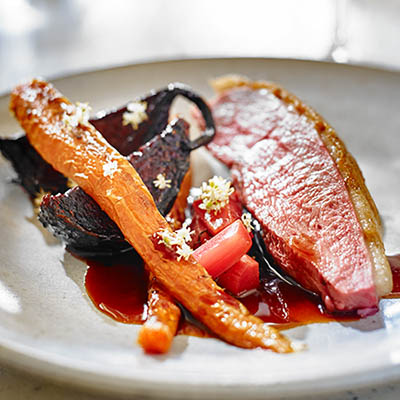 Ingredients
Serves 4
4 tsp (20 ml) unsalted butter
2 tbsp (30 ml) chopped button mushrooms
½ yellow onion, finely diced
½ celery stalk, finely diced
½ small carrot, peeled and finely diced
3 tbsp + 1 tsp (50 ml) port
4 cups (1 L) brown chicken stock
2 tbsp (30 ml) whipping cream
DUCK BREAST WITH VEGETABLES AND RHUBARB:
¼ cup (60 ml) granulated sugar
2 stalks rhubarb, cut into 2-in (5 cm) pieces
2 small red beets, peeled
3 carrots, peeled and cut in half, lengthwise
2 tsp (10 ml) unsalted butter
1 duck breast, boned, skin on
seasonal herbs, for garnish
Instructions
To make RICH DUCK SAUCE: Chop duck carcass into small pieces. Place in a large, heavy saucepan with butter and fry over medium heat, stirring often, until golden brown, about 10 minutes. Add oil, mushrooms, onion, celery, carrot, juniper berries, orange zest, brandy and port and bring to a boil. Reduce heat to medium and simmer uncovered, until reduced by half.
Add chicken stock and thyme sprig and bring to a boil. Reduce heat to medium and simmer for 30 minutes. Strain sauce and return to saucepan. Continue to simmer, uncovered, until sauce is at desired thickness, or coats the back of a spoon. Stir in cream and remove from heat. Strain with a fine mesh and cover to keep warm.
To make DUCK BREAST WITH VEGETABLES AND RHUBARB: Combine sugar and water in a small saucepan. Bring to a boil and stir until sugar is dissolved. Remove from the heat and stir in rhubarb. Set aside and steep for 10 minutes in a low oven set at 200 F (93 C). Then strain rhubarb and reduce the sugar water until syrup. Pour the syrup over rhubarb and set aside.
Preheat oven to 350 F (180 C). Place beets in a small roasting pan, cover and bake for 20-30 minutes. On a separate roasting sheet, rub carrots with butter and bake for 7 minutes.
Meanwhile, place duck breast fat-side down in a cold, dry, ovenproof frying pan. Sear duck skin over medium heat for 6 to 8 minutes or until skin is golden brown. Drain off rendered fat and save for another use, if desired. Turn breast and sear other side for 30 seconds. Turn breast fat side down again and place pan in preheated oven. Roast for 6 to 8 minutes or until breast is medium rare. Remove from pan and let rest for 5 minutes before serving.
To serve, thinly slice duck breast. Place a couple slices on a heated serving plate alongside a couple wedges of roasted beets, a couple pieces roasted carrot and a generous spoon of poached rhubarb. Drizzle with a generous ladle of Rich Duck Sauce and garnish with seasonal herbs.
Drink Pairings