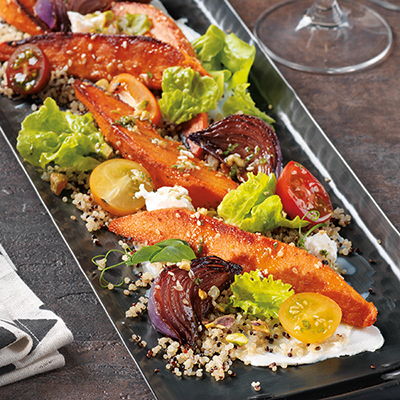 DUKKAH SWEET POTATO SALAD
Ingredients
Serves 4
1 medium-sized sweet potato, peeled and cut into wedges
2 small red onions, peeled and cut into wedges
6 tbsp (90 ml) extra-virgin olive oil, divided
2 tbsp (30 ml) dukkah spice (Available at specialty grocery stores)
1 tbsp (15 ml) salt, plus extra, to taste
1 cup (250 ml) cooked quinoa, cooled to room temperature
3 tbsp (45 ml) lemon juice
1 tsp (5 ml) chopped parsley
1 tsp (5 ml) chopped mint
½ cup (125 ml) cherry tomatoes, halved
¼ cup (60 ml) Macedonian-style feta (can substitute for regular feta), broken into chunks
Instructions
Preheat oven to 375 F (190 C).
In a large bowl, toss together sweet potatoes, onions, 3 tbsp (45 ml) olive oil, dukkah spice, 1 tbsp (15 ml) salt and pepper, to taste. Transfer to a parchment-lined baking tray and bake for about 30 minutes, or until tender and golden brown, turning halfway through.
Spread labneh on a serving plate, then add quinoa. Arrange sweet potatoes and onions on top.
In a large bowl, whisk together remaining 3 tbsp (45 ml) olive oil, lemon juice, lemon zest and herbs, toss dressing together with cherry tomatoes and baby greens.
Arrange tomatoes, greens and feta on salad and drizzle with remaining dressing. Sweet potatoes and onions can be served warm or at room temperature.
Drink Pairings