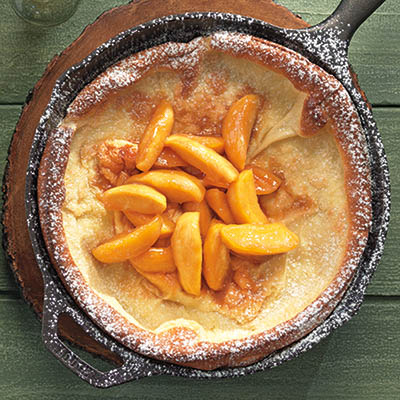 DUTCH BABY PANCAKE WITH CINNAMON-GLAZED APPLES
Ingredients
Serves 6
½ cup (125 ml) granulated sugar
3 apples, peeled, cored and cut into eighths
¼ cup (60 ml) whipping cream
3 tbsp (45 ml) unsalted butter
¼ tsp (1 ml) ground cinnamon
4 tbsp (60 ml) unsalted butter, divided
¾ cup (175 ml) all-purpose flour
2 tbsp (30 ml) granulated sugar
Chantilly or flavoured whipped cream, to serve (optional)
Instructions
To make CINNAMON-GLAZED APPLES: In a dry, heavy-bottomed saucepan, heat sugar over medium heat. Stir occasionally until golden brown and caramelized. Add apples and cream to pan, being very careful as it will bubble up. Gently stir to coat apples, dissolving caramel with juices from apples and cream. Add butter, salt and cinnamon. Continue cooking, stirring occasionally until apples are tender and cooked through, about 10 to 15 minutes. They should be nicely glazed with sauce. Can be made up to 2 days in advance and refrigerated. Serve at room temperature or gently reheat and serve warm.
To make DUTCH BABY PANCAKE: Preheat oven to 425 F (220 C). Melt 2 tbsp (30 ml) butter. Place in a blender with eggs, flour, milk, sugar, vanilla and salt. Blend batter until smooth. Heat a 10-in (25 cm) cast iron frying pan over medium heat. Add remaining 2 tbsp (30 ml) butter and swirl to melt. Add all of the batter to hot pan and swirl to coat bottom. Transfer pan to oven. Bake for 18 to 20 minutes, or until puffed and golden brown. Pancake will puff up but start to deflate once removed from oven.
Pour glazed apples into middle of pancake. Dust with icing sugar and serve immediately with Chantilly or whipped cream.
Drink Pairings