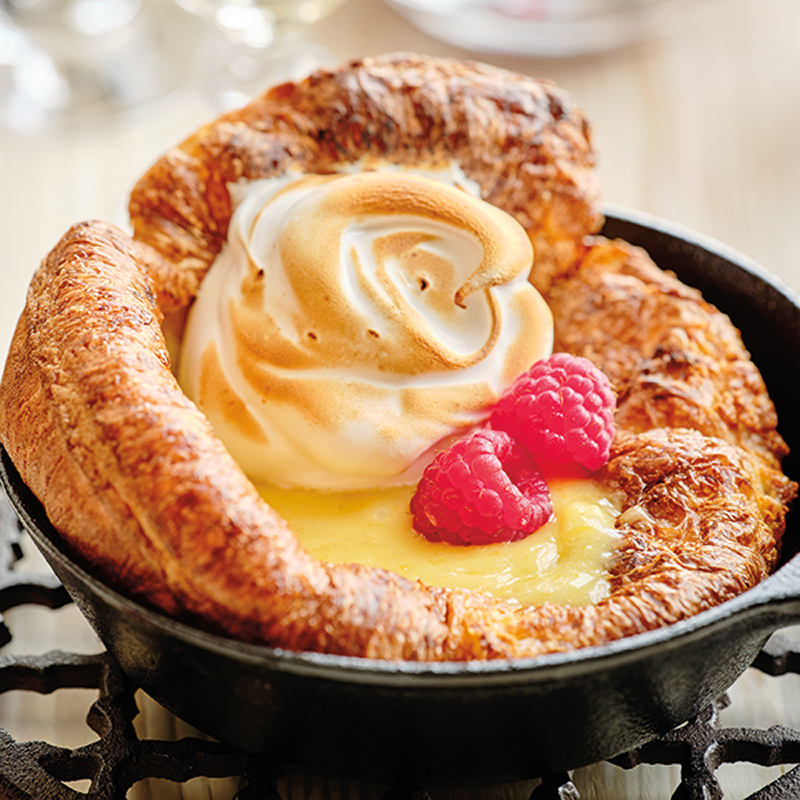 DUTCH BABY PANCAKES WITH LIMONCELLO CURD & MERINGUE
Spoil your valentine by making this unforgettable brunch item.
Ingredients
Serves 4**
1 cup + ½ cup (250 ml + 125 ml) granulated sugar, divided
⅓ cup (75 ml) Limoncello liquor
2 tbsp (30 ml) fresh lemon zest
½ cup + 3 tbsp (125 ml + 45 ml) unsalted butter, divided
⅔ cup (150 ml) all-purpose flour
1 tsp (5 ml) vanilla extract
½ tsp (2.5 ml) kosher salt
2 tbsp (30 ml) peanut oil
fresh raspberries, for garnish
Instructions
To make limoncello curd, place a medium saucepan filled with about 1-in (2.5 cm) water over medium-low heat. In a medium heatproof bowl, whisk together egg yolks and 1 cup (250 ml) sugar until smooth and light in colour, about 2 minutes. Place bowl on top of simmering saucepan. Bowl should be resting just above water and not touching it. Using a rubber spatula, stir mixture, taking care to scrape down sides and bottom of bowl, until mixture is very warm and no granules of sugar can be felt when a small amount is rubbed between your fingers, about 5 to 7 minutes. Add limoncello and lemon zest and continue to stir until fully incorporated. Continue to cook mixture, stirring often, until mixture is thick enough to coat spatula and is hot, about another 5 minutes. Remove bowl from heat. Cut ½ cup (125 ml) butter into ½-in (1 cm) pieces. Whisk butter, 1 piece at a time, into limoncello mixture. Allow each piece of butter to melt before folding in next one. Place a piece of plastic wrap or parchment paper directly on surface of warm curd and allow to cool to room temperature, then refrigerate until chilled and thick, about 4 hours. Curd can be made ahead and stored in refrigerator in an airtight container for up to 2 weeks.*
When ready to make Dutch baby pancakes, place an oven rack in middle position, then preheat oven to 400 F (200 C).
On stovetop or in microwave oven, melt remaining 3 tbsp (45 ml) butter and set aside to cool to room temperature.
In a medium bowl, whisk milk, eggs, flour, salt and vanilla. Add melted butter and whisk to create a smooth batter. Set aside.
Divide peanut oil between four 6-in (15 cm) individual cast iron skillets, place on a rimmed baking tray and place in oven to preheat oil until just smoking hot, about 6 minutes. Carefully remove tray skillets are on and immediately divide batter among hot skillets. There should be a little more than ½ cup (125 ml) in each. Take care, as it may splatter and hiss. Return baking tray with filled skillets back to oven and bake until Dutch babies pancakes are dramatically puffed and golden brown, about 15 to 20 minutes. Once baked, remove from oven and let rest for 5 minutes. Dutch baby will deflate a bit, but that is expected.
While Dutch babies are baking, make meringue. In bowl of a stand mixer fitted with whisk attachment, start whipping egg whites and cream of tartar over medium-high heat until soft peaks form. Slowly incorporate sugar, adding 1 tbsp (15 ml) at a time and letting it whip for about 30 seconds before adding next sugar addition. Once all the sugar has been added, let meringue whip on high for another 2 minutes. Meringue should be stiff and glossy. Set aside.
Once Dutch baby pancakes are baked, place about 2 tbsp (30 ml) limoncello curd in sunken part of Dutch baby and top with a generous dollop of meringue. Gently toast meringue under broiler, or with a kitchen blowtorch, until lightly caramelized. Transfer Dutch babies, still in their skillet, to towel-lined serving plates. Garnish with fresh raspberries and serve immediately.
*You will have more limoncello curd than necessary for the recipe. Use leftover limoncello curd spread on toast, stirred into yogurt or as a filling for cakes or pastries.
**If making for 2, extra batter keeps well refrigerated in an airtight container for up to 2 days. Just give it a whisk before using.
Drink Pairings