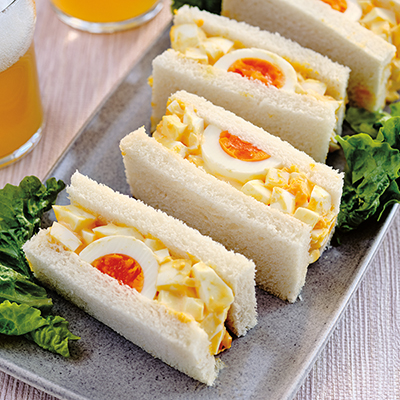 Ingredients
Serves 6 sandwiches
7 eggs, room temperature (we recommend free-range eggs for their vibrant colour)
¼ cup (60 ml) Kewpie (Japanese) mayonnaise
1 tbsp (15 ml) whipping cream
salt and pepper, to taste
12 slices Asian milk bread, crusts removed (can also substitute white sandwich loaf)
Instructions
Bring a medium pot of salted water to a boil over high heat. Gently add eggs, then bring water back to a boil. Turn heat down to a simmer and cook for 6½ minutes. Meanwhile, prepare two ice bath bowls. Remove 3 eggs after the 6½ minutes and place in one ice bath. Cook remaining 4 eggs for 2 more minutes (8½ minutes total), then remove and place in other ice bath.
Once cooled, peel eggs.
In a bowl, mash the four 8½ minute eggs, then mix with mayonnaise, cream, salt and pepper.
Lay out 6 slices of bread. Cut the three 6½ minute eggs in half lengthwise, and lay each half cut-side down in middle of a slice of bread.
Evenly divide egg salad between slices of bread with egg halves, and spread it out to the edges. Top with remaining slices of bread. Cut each sandwich in half and serve.
Drink Pairings