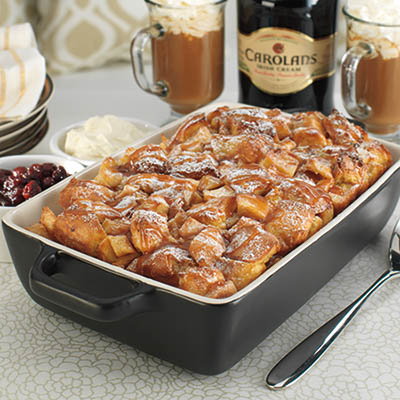 EGGNOG BREAD PUDDING WITH CARAMEL SAUCE
Ingredients
Serves 9
1 cup (250 ml) white sugar
1 cup (250 ml) whipping cream, divided
¼ cup (60 ml) butter, cubed and chilled
1 cup (250 ml) whipping cream
2 tbsp (30 ml) white sugar
4 apples, peeled and cubed
⅛ cup (25 ml) unsalted butter
1 tsp (5 ml) vanilla extract
½ tsp (2 ml) orange extract or 1 tsp (5 ml) orange zest
⅓ cup (75 ml) white sugar
¼ cup (60 ml) maple syrup
1 loaf brioche bread, cut into 1-in (2.5 cm) cubes
2 tbsp (15 ml) powdered sugar
1 x 1-in (2.5 cm) cinnamon stick
1 x 2-in (5 cm) piece orange zest
1 x 2-in (5 cm) piece lemon zest
2 cups (500 ml) fresh or frozen cranberries
1 cup (250 ml) white sugar
Instructions
To make CARAMEL SAUCE: In a saucepan, heat water and sugar over medium-high heat. Continue to cook sugar until it dissolves, boils, then turns dark brown. Remove from heat and add ⅓ of the cream. The caramel will boil and rise in the pot, be careful. Add remaining ingredients, whisking to mix. Set aside and let cool to room temperature.
To make SPICED WHIPPED CREAM: In a chilled bowl, whisk cream, sugar, nutmeg and cinnamon until soft peaks form. Store in refrigerator until ready to use.
To make BREAD PUDDING: Preheat oven to 350 F (180 C) and butter a 9-in (23 cm) square cake pan. Sauté apples in butter over medium heat just until the apples are tender. Set aside.
In a bowl, mix eggs, egg nog, vanilla and orange extract, sugar, maple syrup and salt. Add bread and mix. Let sit for 5 minutes. Add apples and mix again.
Place bread mixture in cake pan. Bake for 30-40 minutes, or until the top is golden brown and a cake tester comes out clean. Let cool completely, then sprinkle with powdered sugar and drizzle with Caramel Sauce. Serve with Spiced Whipped Cream and Cranberry Compote.
To make CRANBERRY COMPOTE: Tie the cinnamon stick, cloves and citrus zests in a piece of cheesecloth. Place cranberries, sugar and spices in a medium-sized heavybottomed saucepan. Cook over medium-heat for about 20-25 minutes. When the cranberries burst and release their juices, continue to cook until thick and sticky, like a jam. Cool and serve.
Drink Pairings