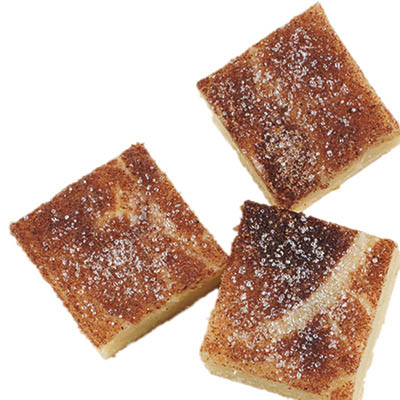 Ingredients
Serves about 80 bars
1½ cups (375 ml) all-purpose flour
1 tsp (5 ml) cream of tartar
½ cup (125 ml) unsalted butter, at room temperature
¾ cups (175 ml) granulated sugar
¼ cup (60 ml) eggnog or milk
¼ cup (60 ml) light corn syrup
1 vanilla bean, split in half, seeds scraped out
1 tbsp (15 ml) rum extract
¾ cup (175 ml) unsalted butter, at room temperature
1¼ cups (310 ml) granulated sugar, divided
1¼ cups (310 ml) all-purpose flour, divided
1 ½ tsp (7 ml) ground cinnamon
½ tsp (2 ml) ground nutmeg
Instructions
To make COOKIE BASE: Preheat oven to 350 F (180 C). Line a 9x13-inch (23 x 33 cm) baking pan with parchment paper and set aside. In a medium bowl, whisk together flour, cream of tartar, baking soda and salt. Separately, cream together butter and sugar until pale and fluffy. Add egg and eggnog, mix until well incorporated. Add flour mixture and stir together until just combined. Dollop into prepared pan and spread evenly. Bake for 15 minutes before setting aside on a wire cooling rack.
To make EGGNOG TOPPING: Whisk together corn syrup, eggnog, vanilla seeds and rum extract. Set aside.
Cream together butter, 1 cup and 2 tbsp (280 ml) sugar and salt until pale and fluffy. Add egg and beat until well combined. Add a third of the flour and stir until just combined. Add half eggnog mixture and stir until just combined. Repeat adding flour and eggnog mixture until last of the flour has been incorporated. Dollop over cookie base and spread out evenly.
In a bowl, whisk together remaining sugar, cinnamon and nutmeg. Sprinkle over entire surface of eggnog topping. Bake for 25 to 30 minutes. Eggnog topping should be lightly set and still jiggle under cinnamon crust. Cool completely at room temperature. Cut into 1-inch (2.5 cm) squares before serving. Eggnog bars will keep refrigerated for 1 week. Allow to come to room temperature before serving.
Drink Pairings