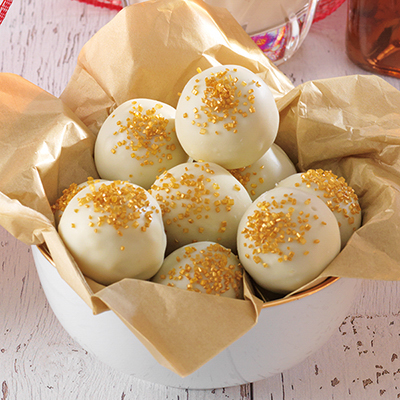 Ingredients
Serves 25 truffles
10 oz (300 g) vanilla wafer cookies
½ tsp (2.5 ml) ground cinnamon
¼ tsp (1 ml) ground nutmeg
10 oz (300 g) white chocolate, chips or candy melts
gold sprinkles, for garnish
Instructions
In a food processor, pulse cookies until sandy and transfer to a large bowl. Add cinnamon, nutmeg, eggnog and rum and mix until well combined and mixture resembles cookie dough.
Scoop 1 tbsp (15 ml) of mixture at a time and roll into balls. Place on a parchment-lined baking tray and refrigerate for at least 1 hour and up to overnight.
Place white chocolate in a microwave-safe bowl and microwave in 30 second bursts, stirring after each burst until melted and smooth.
Working with 1 cookie truffle ball at a time, use a fork to dip in white chocolate to coat completely. Tap off excess chocolate and transfer to parchment-lined baking tray. Garnish with a dusting of gold sprinkles and allow to set at room temperature for about 2 hours. Truffles may be stored in an airtight container in refrigerator for up 4 days before packaging and gifting.
Drink Pairings