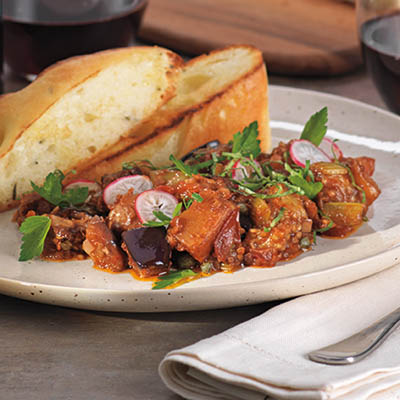 Ingredients
Serves 4 to 6
½ cup (125 ml) extra-virgin olive oil, plus extra, if needed
1 eggplant, cut into 1-in (2.5 cm) cubes
1 small yellow onion, peeled and diced
4 celery stalks, cut into 1-in (2.5 cm) pieces
1 pinch ground black pepper
1 pinch crushed red pepper flakes
2 tbsp (30 ml) capers, roughly chopped
3 tbsp (45 ml) balsamic vinegar
2 tsp (10 ml) granulated sugar
14 oz (398 ml) can diced Italian tomatoes
1 tsp (5 ml) flat-leaf parsley, chopped
Instructions
In a large frying pan, heat olive oil over medium-high heat. Sauté the eggplant in asingle layer (do this in batches if needed), until golden brown on all sides, adding more oil if necessary. Remove eggplant to a separate dish when done.
Reduce heat to medium. Add onion, celery, garlic, salt, pepper and red pepper flakes. Sauté until softened. Add capers, balsamic, sugar and diced tomatoes. Simmer for about 10 minutes.
Remove from heat and add eggplant, parsley and lemon juice. Fold in to combine. Adjust seasoning to taste and serve with crusty Italian bread. Best served at room temperature. Can be refrigerated in a tightly covered container for up to 12 days.
Drink Pairings