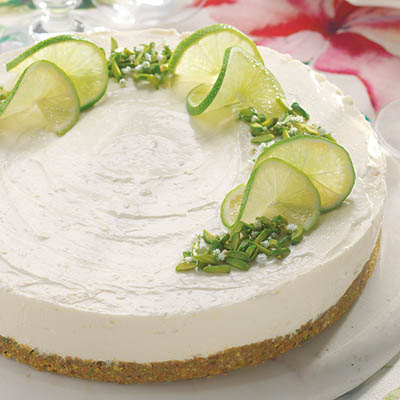 ELDERFLOWER, PISTACHIO AND LIME CHEESECAKE
Ingredients
Serves 8
1 cup (250 ml) pistachios, plus extra for garnish
½ tsp (2 ml) finely grated lime zest, plus extra for garnish
1½ cups (375 ml) graham cracker crumbs
6 tbsp (90 ml) unsalted butter, melted
2 x 8 oz (250 g) package cream cheese, at room temperature
1 x 14 oz (398 ml) can sweetened condensed milk
3 tbsp (45 ml) lime juice
1½ tbsp (22 ml) elderflower cordial1, plus additional to serve
edible flowers, for garnish (optional)
Instructions
Line bottom of an 8-in (20 cm) springform pan with parchment paper.
In a food processor, pulse pistachios, dates, salt and lime zest until crumbly. Add graham cracker crumbs and butter. Process until mixture is sticky and holds together when a bit is formed into a ball. Transfer to springform pan and press into an even layer over base of pan. Chill crust in freezer for 10 minutes.
In bowl of a stand mixer fitted with paddle attachment, beat cream cheese at medium speed until smooth. Beat in condensed milk, a little at a time, scraping down sides of bowl as needed until all incorporated. Add lime juice and elderflower cordial and beat until well combined. Pour mixture over chilled crust and smooth top with a spoon or rubber spatula. Cover springform pan with plastic wrap and refrigerate until cheesecake is firm, about 3 to 4 hours.
To serve, unmould cheesecake from pan and transfer to a serving plate. Garnish top of cheesecake with chopped pistachios, fresh lime zest and edible flowers, if desired. To achieve a clean cut piece of cake, make sure to use a warm knife and wipe off knife after each cut. Drizzle with a bit of additional elderflower cordial right before serving, if desired.
Drink Pairings