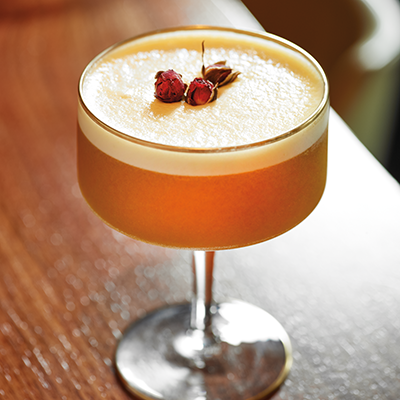 Ingredients
Serves 1
2 oz (60 ml) Ron Zacapa Solera 23 Rum
¾ oz (25 ml) Turmeric Honey*
1 oz (30 ml) aquafaba** or egg white
2 dashes of Bittered Sling Arabica Coffee Bitters
edible dried flowers, for garnish (optional)
Instructions
Combine all ingredients in a cocktail shaker and dry shake with one ice cube to aerate aquafaba or egg white. Fill shaker with ice and hard shake. Double strain into a chilled large coupe.
* Combine 2 cups (500 ml) honey with 1 cup (250 ml) hot water, 2 tsp (10 ml) ground turmeric and stir to combine. Can be stored in refrigerator for up to 2 weeks in a sealed container.
** The liquid leftover from a drained can of chickpeas.
Featuring