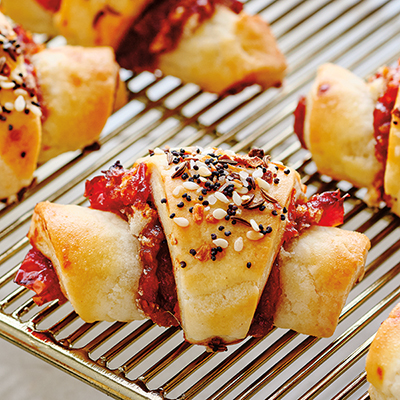 Everything-Bagel Rugelach with Tomato Jam
Ingredients
Serves 12 rugelach
2 lbs (1 kg) cherry tomatoes, halved
½ cup (125 ml) dark brown sugar
2 tbsp (30 ml) apple cider vinegar
1 tbsp (15 ml) grated fresh ginger
½ tsp (2.5 ml) ground cumin
¼ tsp (1 ml) to ½ tsp (2.5 ml) red pepper flakes, to taste
1 tsp (5 ml) white sesame seeds
½ tsp (2.5 ml) caraway seeds
½ tsp (2.5 ml) coarse sea salt
½ tsp (2.5 ml) dehydrated onion flakes
¼ tsp (1 ml) dehydrated garlic flakes
1 cup (250 ml) all-purpose flour
½ cup (125 ml) cold unsalted butter, cut into large cubes
½ cup (125 ml) cold cream cheese, cut into large cubes
1 tbsp (15 ml) fresh bread crumbs
Instructions
To make tomato jam, in a medium, heavy-bottomed saucepan or Dutch oven, combine tomatoes, sugar, vinegar, ginger, salt, cumin and pepper flakes. Stirring constantly with a wooden spoon or heatproof spatula, bring to a boil over medium-high heat. Reduce heat to medium-low and gently simmer, stirring often, until thick and jammy, about 2 hours. To test if jam is done, run a spoon along bottom of pot through jam; it is done if no liquid fills in the path. Transfer to an airtight container. Cool at room temperature before sealing and refrigerating. Jam will keep, refrigerated, for up to 2 weeks.
To make rugelach, in a small bowl, whisk together poppy seeds, sesame seeds, caraway seeds, sea salt and dehydrated onion and garlic.
In a food processor fitted with steel blade attachment, pulse together flour, butter, cream cheese and kosher salt until just combined, about 4 or 5 pulses. Then let processor run until a shaggy dough ball forms, about 1 minute. Transfer dough to a lightly floured sheet of plastic wrap. Lightly flour hands and gently form dough into a disc, wrap and refrigerate for 1 hour.
Place oven rack in middle of oven and preheat to 375 F (190 C). Stack 2 rimmed baking sheets and line top 1 with parchment paper. Set aside.
On a lightly floured surface, roll dough into an 11-in (28 cm) circle, using a dinner plate and paring knife to trim edges. Using an offset spatula, spread ⅓ cup (75 ml) tomato jam over surface of dough, leaving a ½-in (1.25 cm) border. Sprinkle bread crumbs evenly over filling. Using a sharp knife or pizza cutter, cut disc into 12 equal wedges. Starting from wide end of each long triangle, roll up and press on pointy end to seal. Place seam-side down on prepared baking sheet. Repeat with remaining triangles, working quickly and placing rugelach about 2-in (5 cm) apart. Transfer baking sheet to freezer for at least 20 minutes. At this point, if desired, rugelach can be frozen hard, then transferred to an airtight container for up to 6 months. Defrost in refrigerator overnight before proceeding.
When ready to bake, in a small bowl, whisk together egg and water. Using a small pastry brush, brush surface of cookies with egg wash. Lightly sprinkle seed mixture evenly over surface of cookies; you will have extra left over to use elsewhere. Bake until browned and flaky, about 25 to 30 minutes. Leaving rugelach on parchment, transfer to a wire rack to cool completely, about 1 hour. Rugelach may be stored in a cool place in an airtight container, layered between sheets of wax paper, for 1 to 2 days, or will keep refrigerated for up to 2 weeks. If storing in refrigerator, warm gently in a 275 F (140 C) oven for a few minutes before serving.
Drink Pairings